Panel discussion on Nashville Transit Plan set for Feb. 23
Read the MyVU story here.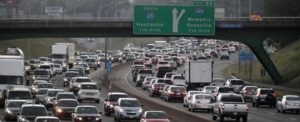 The Office of Community, Neighborhood & Government Relations and Vanderbilt Center for Transportation and Operational Resiliency (VECTOR) invite the Vanderbilt community to attend a lunch-and-learn panel discussion about the proposed Nashville Transit Plan.
The event will feature diverse perspectives from research by Vanderbilt faculty members on emerging technologies that could disrupt or enable future mobility. Register to attend here.
The Nashville Transit Plan—
Emerging Mobility Technologies: Enabler, Disrupter or Both?
Friday, Feb. 23, 2018
Student Life Center Ballroom
Lunch served at 11 a.m.
Program from 11:30 a.m. to 1 p.m.
The panel will include:
Craig Phillip, research professor of civil and environmental engineering; director of VECTOR (facilitator)
Dan Work, associate professor of civil and environmental engineering and computer science
Alejandro Molnar, assistant professor of economics
Abhishek Dubey, assistant professor of computer science and engineering; researcher in the Institute for Software Integrated Systems
J.B. Ruhl, David Daniels Allen Distinguished Professor of Law
Boxed lunches will be provided for the first 150 people. For information regarding parking needs, email cngr@vanderbilt.edu.