Rand Roof Gets Green Update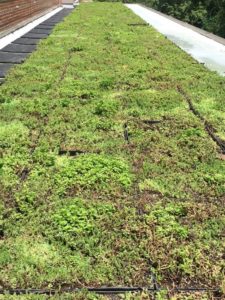 The Rand Hall roof recently got a green update for the 2017 school year! A green roof was installed this summer through a student-initiated Vanderbilt Green Fund project. The roof on the third floor of Rand outside the wall of windows and across from the Anchor has been covered in trays containing sedum, a plant material. See a timelapse of the green roof installation here.
Green roofs provide multiple benefits:
Reduced Energy Use – green roofs absorb heat and act as insulators for buildings, reducing the energy needed to heat and cool buildings.
Reduced Heat Island Effect – green roofs have a lower surface temperature than traditional black roofs. Green roofs remove heat from the air through evapotranspiration. On hot summer days, the surface temperature of a green roof can be cooler than the air temperature, whereas the surface of a conventional rooftop can be up to 90°F (50°C) warmer.
Improved Stormwater Management – green roofs can reduce the amount of runoff during rain events and slow the time it takes for stormwater to leave a roof, reducing the demand on stormwater systems. Green roofs can also filter pollutants from rainfall.
Increased Roof Longevity – green roofs protect the roof surface from damaging UV rays, extending the life of the roof surface.
Improved aesthetics – green roofs provide natural views (especially on highly visible roofs like the one at Rand!).
A tray system was used which are made out of 100% recycled plastic and their modular design allows flexibility if maintenance is needed to the roof.
The Vanderbilt Green Fund (VGF) was designed to systematically reduce utility consumption, greenhouse gas emissions and improve the sustainability of Vanderbilt University by funding student-initiated projects with both environmental and economic benefits, and by enabling students, faculty, and administration to engage in the process of transitioning to a clean and sustainable energy future. Any student, faculty, or group associated with Vanderbilt University can propose a project for consideration; the VGF application will be available in November here.
Contact: Sustainability and Environmental Management Office
615.322.9022