iDialogues
IDialogues
Program Overview:  
iDialogues is an 10-week educational series that creates an opportunity for both undergraduate and graduate students to engage in intergroup dialogue through the lens of social group identity, power dynamics, conflict, and community. For over six years, this in-person program was designed for students to develop a broad and comprehensive understanding of how to become agents of social change in the context of both Vanderbilt and its surrounding communities.  
While still incorporating social justice education, the iDialogues curriculum has been re-imagined to increase elements of intercultural competence. Students who participate in the iDialogues program will be able to better understand how their cultural identities influence personal experiences. Students will be able to synthesize skills through interactive and reflective activities that to communicate across differences.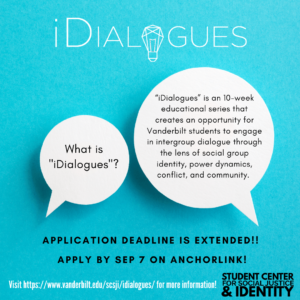 Applications will be open August 15, 2022 on AnchorLink! The deadline has been extended!  Apply by September 7th!
Applications:  
Applications for the iDialogues Program will open Monday, August 15th, 2022 and close Wednesday, September 7, 2022 via AnchorLink. 
Qualifications: 
Be in good standing with Vanderbilt University. 

 

Be a full-time student (at least 12 credit hours/semester).

 

Follow university-affiliated updated COVID-19 guidelines. 

 

Be willing to lean into your learning edges as we discuss topics rooted in intercultural competency and social justice education (e.g., power and privilege, effective communication, and socialization).

 

Must complete the iDialogues application by the indicated deadline.

 

Able to attend the iDialogues Retreat on Sunday, September 11th from 1:00 pm – 4:00 pm.

 

Able to attend the iDialogues sessions each Thursday from 5:30 pm – 7:00 pm (9/15/22 – 12/01/22).

 
The Student Center for Social Justice and Identity (SCSJI) reserves the right to accept or deny applications for the iDialogues program. If you have any questions, please reach out to Kauthar Gaber, SCSJI Program Coordinator (kauthar.f.gaber@vanderbilt.edu) or Emma Baker, Graduate Assistant (emma.e.baker@vanderbilt.edu).  
Session Descriptions