Empowerment Summit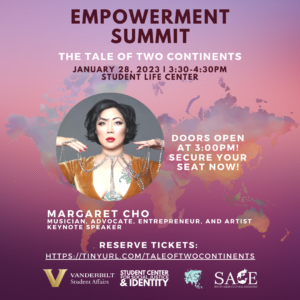 Empower Summit: Empowerment Summit: A Tale of Two Continents, The Immigrant Experience and A Colonial Legacy
Please join the Student Center for Social Justice and Identity (SCSJI), Asian American
Students Association (AASA), and the South Asian Cultural Exchange (SACE) in the
second annual Empowerment Summit. This year's official theme is A Tale of Two
Continents: The Immigrant Experience and A Colonial Legacy, highlighting experiences
within the Asian and Asian American Diaspora. The summit will feature nationally
recognized keynote speaker Margaret Cho!
Margaret Cho is a comedian, actor, musician, advocate, entrepreneur and artist born and
raised in San Francisco, an experience that she can say with all sincerity helped to
shape her worldview. Margaret is known for her groundbreaking Off-Broadway one-
woman show, I'm The One That I Want, and has served as an entertainment pioneer for
several sold-out national tours such as Revolution. With so much success in her
creative life, Cho still finds time to support the causes that are important to her including
anti-racism, anti-bullying, and gay rights campaigns. Margaret' freethinking spirit and
unapologetic advocacy have led her to be honored by organizations such as the
Lambda Legal Defense and Education Fund, the Asian American Legal Defense and
Education Fund, and the National Organization for Women (NOW). It's only fitting that
Margaret should serve as the keynote speaker at this year's Empowerment Summit
given her robust experience and activism.
Tickets can be reserved online through  TicketWeb or in person at the Sarratt Box
Office. Those who reserve tickets will be sent a registration form to complete at a later
date. Registration will close on Wednesday, January 25th- Attendance capacity is
maxed at 200 people, so please register early. We look forward to seeing you at the
Empowerment Summit on January 28! Please reach out to scsji@vanderbilt.edu
regarding any questions.