Assistant Vice Chancellor for Environmental Health, Safety, and Sustainability
Andrea George, PhD, BCEEM, CHMM, PMP
Assistant Vice Chancellor, Environmental Health,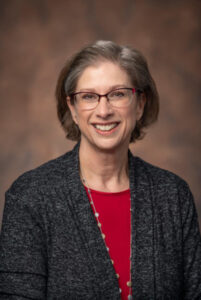 Safety, and Sustainability
Co-Commander, Vanderbilt Public Health Central Command Center
Adjunct Faculty, Civil and Environmental Engineering
Bio
Dr. George has served as co-incident commander since mid-2020 leading the university's COVID-19 response managing COVID-19 testing, contact tracing, and data management for the University. In her role as assistant vice chancellor of environmental, health, safety, and sustainability, Dr. George advances research-centric safety programs to protect Vanderbilt's world-class researchers from the hazards they encounter while performing their research as well as innovative and forward-looking sustainability initiatives for the institution. She is also an adjunct faculty member in Vanderbilt's Civil and Environmental Engineering department. Dr. George was recognized in 2020 with both the Vanderbilt Anchor Down Step Up Excellence Award and the Service Champion Award.
Dr. George has served the university as the inaugural sustainability director since 2007 as well as in various strategic safety functions since 1997. Prior to joining Vanderbilt as a staff member in 1997, George managed radioactive waste remediation projects for Oak Ridge National Laboratory and for Bechtel National earning the Department of Energy's Pollution Prevention Award.
She holds Bachelor of Science degrees in physics and mathematics in addition to Master of Science and Doctor of Philosophy degrees in engineering from Vanderbilt. She is Board Certified by Eminence in Environmental Engineering by the American Academy of Environmental Engineers and Scientists, a Certified Hazardous Materials Manager (CHMM), a certified Project Management Professional (PMP), has served on numerous national steering committees and advisory councils, and is a frequent invited lecturer and educator on COVID-19 safety, research safety, environmental management, and sustainability.