Construction Milestone
Memorial Lawn Open
After months of being closed, the pathways across Memorial Lawn are open to pedestrian traffic. The Messer Construction team is also working diligently to finish up their work replacing infrastructure throughout the esplanade. Working south to north, sections of the esplanade will begin to open as early as mid-February.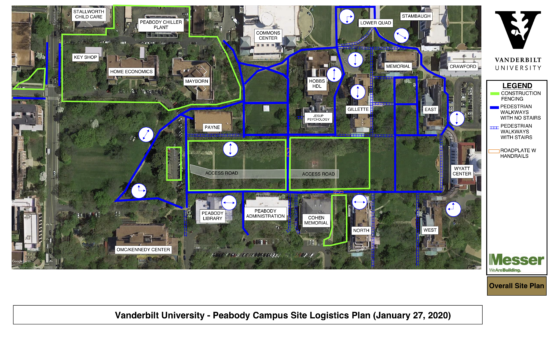 Click the image for a larger sized map
Coming spring 2020
Starting this spring the community will once again be able to enjoy the Peabody Esplanade.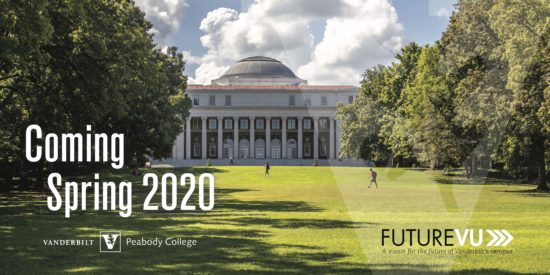 Edgehill Avenue and 19th Avenue Construction Work
Due to infrastructure upgrades in the Peabody Neighborhood, work is occurring near the intersection of Edgehill Avenue and 19th Avenue. The Messer Construction team will be boring underneath Edgehill Avenue and 19th Avenue to replace the existing steam pipe with hot water and chilled water piping.
Leadership deliberated many options which included boring and digging open trenches in this area but decided on boring underneath the roadways to create the lowest impact on vehicular traffic in the area. This plan will allow for both 19th Avenue and Edgehill Avenue to remain open during the work with periodic single-lane closures. Alternative plans also did not allow for work on 19th Avenue and Edgehill Avenue simultaneous, making for a longer timeline. Boring simultaneously allows for the work to only last six to eight weeks.
Part of this construction will include the removal of the stonewall that runs along Edgehill Avenue. The stones from the wall will be removed, stored and reused in the beautification of the Peabody Neighborhood.
Cooling Tower Installation
On Monday, Feb. 3 cooling towers will start being installed at the Chiller Plant located near the Commons Center. In order to install these cooling towers, 18th Avenue in front of The Commons will be closed for short periods of time on Monday, Feb 3 and Tuesday, Feb. 4.  A traffic officer will be on site helping with the coordination of the delivery. Pedestrians entering campus from 18th Avenue please use the sidewalks on the south side of the Commons Center.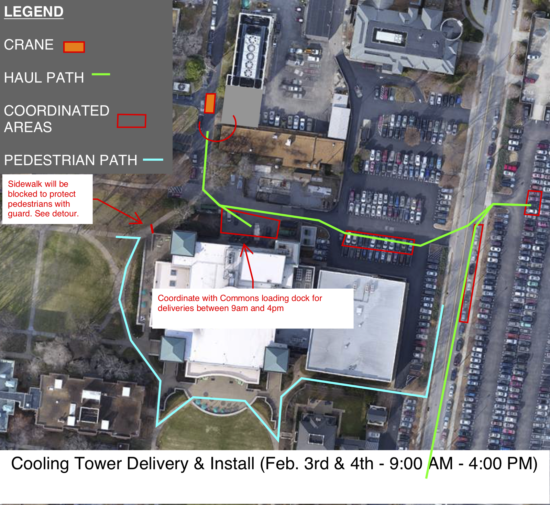 Click the image for a larger sized map
Construction & Mobility Updates
The university, in coordination with Messer Construction, established a live update site that features a weekly schedule of construction activity and a regularly updated map of the Peabody Neighborhood with construction and fencing noted. The link can also be found on the Peabody Neighborhood webpage, a hub of information for community members on all of the efforts at Peabody.
If you believe noise or construction activities are taking place outside of established working hours, or if you believe there is a non-emergency issue, please use the Construction Feedback Form, the hotline email Constr_alerts@Vanderbilt.edu or call (615)-343-9675.
For parking questions, contact VUPS Parking Services at (615) 322-2554.
Normal Construction hours of 7 a.m. to 5 p.m. Monday through Friday and 9 a.m. to 5 p.m. on Saturdays will continue throughout winter break.