Ibrahim Mahama Installation
Ibrahim Mahama, Leaves of Grass. 2012-2021. 2021.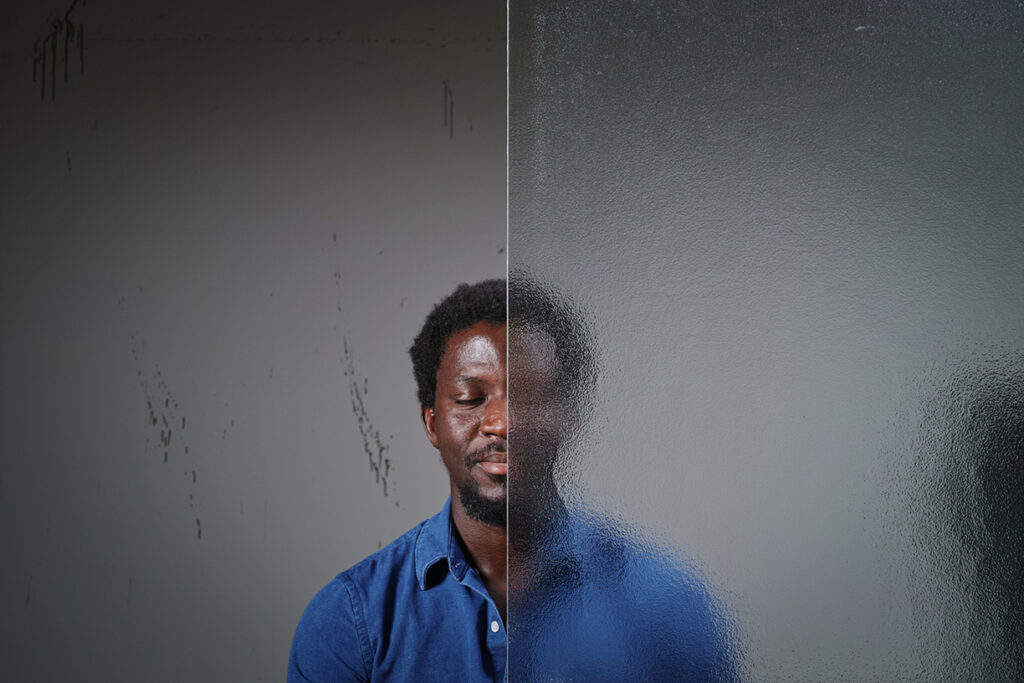 Fisk University, Little Theater, April 21-May 31, 2021
This spring, the EADJ is hosting a largescale art installation by globally-renowned Ghanaian artist Ibrahim Mahama at Fisk University. Part of his Occupation Series, this installation involves enveloping Fisk's Little Theater in jute sacks collected from the markets of Ghana and circulated around the world as material for a series of artist interventions. The jute sacks used in Leaves of Grass 2012-2021. 2021. were sewn together through a massive communal effort here in Nashville that involved Vanderbilt students and faculty, Fisk students and faculty, the McGruder Family Resource Center, and many other community members.
Watch a documentary video of the installation here! 
To view the installation, please make an appointment with Fisk University's Carl Van Vechten Art Gallery here. Or make an appointment by phone: (615) 329-8720.
Walk-ins are also accepted, but due to Covid-19 protocols, visitors must check in at the Van Vechten Gallery before viewing the installation.
Further Information:
ON THE INSTALLATION:
Leaves of Grass. 2012-2021.2021., makes part of the Occupation ongoing series of public interventions in which artist Ibrahim Mahama, (born in 1987, in Tamale, Ghana), utilizes symbolically loaded material— associated with trade and labor—to question the notions of commodity and ownership, and their complex iterations within our histories.
Food-markets, railway stations, museums, footbridges, monuments, theaters, ministries, situated around various cities, countries, and continents, are being enveloped in layers of fabric made by worn jute sacks obtained from traders in exchange for new ones. The sacks, manufactured in Asia and distributed internationally, are used in Ghana to package raw goods, such as cocoa and coffee, for export to the Americas and Europe. Once they arrive in each new entry point of their route all around the world, they gain new traces of the sweat, the hands, the tears and laughs of the "workers" that dealt with them along the way. Each of these signs reveals a whole new chapter of sociopolitical and economic conditions of oppression that continue to occur within the capitalist economy. Yet, at the same time, the sacks' material becomes a universal skin and together a living monument.
Mahama preserves religiously this "body," with all its scars and scarifications, and enlarges its entity though the never-ending circulation of the same fabrics, marked by the traces of their trajectory and their presentation in new assemblages. The material is being resewed and draped over and wrapped around the various urban spaces, again and again, as it travels from place to place. This operation needs mending, care, and together a collective action.
In each new site, the artist is handing over control to the people on the ground to define the final installation. This is his way of honoring the laborers (of any kind) who keep the world in motion, by "producing" goods and services, with no rest, sometimes in great risk, as for example at present, during the Covid-19 pandemic. Events of communal sewing, which hopefully trigger collective thinking and discussion, precede the installation. On that account, the jute sacks are being re-purposed to serve as a growing archive of memory and repair.  When the founder of the Engine for Art, Democracy and Justice, artist and professor Maria-Magdalena Campos Pons, invited me to curate this year's program, Mahama's Occupation series came immediately to my mind. He vigorously accepted our invitation to present a new work in Nashville. Ibrahim Mahama's major installation, on the grounds of historical Fisk University, makes part of the open-ended, and once again urgent, dialogue for "more" democracy and "more" justice. It offers a possibility to build fresh networks based on empathy and resonance and together provides a site from which to discuss anew the entanglement of colonialism and systemic racism.
Marina Fokidis, EADJ 2020-2021 Program Curator
WHY LITTLE THEATER? 
Founded in 1866, Fisk University is a private liberal arts university located in Nashville, Tennessee. Consistently recognized for academic excellence, Fisk is ranked No. 6 of the Top 10 Historically Black Colleges and Universities (HBCUs). Moreover, Fisk is ranked No. 1 in the nation among HBCUs for social mobility, reflecting its consistent focus on student success and outcomes, and is the No. 1 liberal arts HBCU in the nation for research expenditures. Last year, Fisk ranked 3rd among HBCUs in major-related job placements. The visual and performing arts are a critical part of the cultural and intellectual fabric of the institution. Its two galleries, the Carl Van Vechten Gallery and the Aaron Douglas Gallery, are widely known for their 101-object Alfred Stieglitz Collection, which is shared with the Crystal Bridges Museum of American Art. The Galleries are also home to an additional 4,300 works of art, which include important holdings by artists such as Elizabeth Catlett, Aaron Douglas, David Driskell, Ben Enwonwu, Georgia O'Keeffe, Martin Puryear, Diego Rivera, Gerard Sekoto, Henry O. Tanner, Alma Thomas, Winold Reiss, and many others.
The trans-institutional initiative Engine for Art, Democracy and Justice (EADJ) has selected Fisk's Little Theater as the site for the installation of Ibrahim Mahama's work, Leaves of Grass. 2012-2021. 2021. The Little Theatre is the oldest building on Fisk University campus, originally constructed as civil war army barracks and transformed six months after the war into the Fisk Free Colored School, which housed classes for newly freed enslaved peoples who traveled hundreds of miles in the pursuit of education. This building is home to some of the most important and underrecognized histories in the United States, ranging from Reconstruction to Jim Crow to the Little Theatre Movement of the 20th century. This artistic intervention highlights Fisk University's continuing legacy in the global exchange of ideas and cultural production. These movements bring into focus the contributions of Charles S. Johnson, W.E.B. Du Bois, Aaron Douglas, and the numerous faculty and alumni that followed to advance the dialogue around Social Justice.
Jamaal B. Sheats, Director and Curator, Fisk University Galleries
Acknowledgements
Many thanks to everyone who made this installation possible:
Our EADJ Partners: Fisk University, Vanderbilt University, the Frist Art Museum, and Millions of Conversations
Support from: the Hess Family, the Curb Center for Art, Enterprise and Public Policy, Tuck-Hinton Architecture and Design, the Vanderbilt University Strong Faculty Grant, and the Mellon Partners for Humanities Education Collaboration Grant
The Installation Team: Anais Daly, Jamaal Sheats, Apollo Art Services (Chris Doubler, Todd McDaniel, Tim Brown, Chris Doyle, Harry Kagan, Chris Wormald, Taylor Zachry), and Curtis Lesh
And the many amazing people involved in sewing, transport, installation, documentation, and communications: 
The facilities team at Fisk University, the facilities team at Vanderbilt University, Aalyiah Riddle, Abby Shultz, Alexis Eiland, Alicia Henry, Andrea Martinez, Bryston Lee, Carly Tomkins, Cor'Shun Thurman, Corrina Joyner, Courtney Adair Johnson, Danielle Myers, Desmond Pare, Dooby Tomkins, Ellen Pryor, Evan Chrimson, Gabby Henry, Gaby Wilson, Hoda Muhidine, Irving Brown, Jansen Buchanan, Jessica Wilson, John Henderson, Jordan Wright, Julia Jordan, Julia Taylor, Justin Joseph, Katie Delmez, Kevin Murphy, Kim Kane, Kira Braham, Kyle Williams, LeXander Bryant, Madeline Guinee, Malia Jennings, Maria Magdalena Campos-Pons, Marina Fokidis, Mark Scala, Marlos E'van, Martell Lane, Maya Golden, Meagan Charles, Meaghan Hall, Menelik Demeke, Monica Gonzalez Rivera, Natalie White, Niara Tarver, Persephone Felder- Fentress, Robert West, Security Officer Hart, Skylar Barnes, Sopuruchi Ndubisi, Summer Jenkins, Susan Edwards, Sydni Hamilton,Tarik Palmer, Taryana Hatley, Tiana Sutton, Tita Peterson, Trishawna Quincy, Vando Rogers, Vesna Pavlovic, Wilna Taylor, Yukiko Ueda…and more.