Juliet Larkin-Gilmore: Frederick Douglass Day 2018
Although Frederick Douglass was born into bondage, and never knew his birthdate, he chose to celebrate every year on February 14.  Members of the Vanderbilt community gathered to celebrate Douglass' elected birthday and his legacy by transcribing documents from the Freedmen's Bureau Papers, making these important records more accessible to researchers worldwide, in a multi-institutional event organized by the Colored Conventions Project with the National Museum of African American History and Culture.
Frederick Douglass Day 2018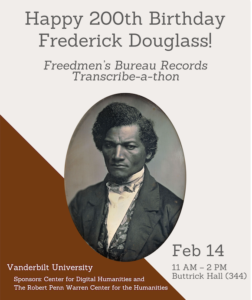 Over thirty Vanderbilt students and faculty joined together yesterday to sing "Happy Birthday" (Stevie Wonder edition) to Frederick Douglass. Douglass was born into slavery and did not know his birthday, but chose to celebrate it on February 14. In honor of his 200th birthday, the Digital Humanities Center hosted a transcribe-a-thon of the Freedmen's Bureau Records.  The event originated with the Colored Conventions Project at the University of Delaware and over 65 institutions across the U.S. participated and watched the livestream from the CCP and the National Museum of African American History and Culture.  Using the Smithsonian Transcription Center's platform, over 10,000 people transcribed, edited, and reviewed high-resolution images of nineteenth-century, handwritten documents from the Freedmen's Bureau's North Carolina records.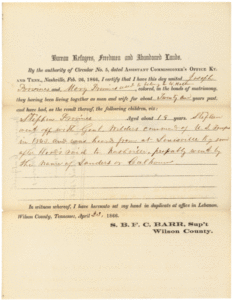 The federal government established the Freedmen's Bureau, formerly the Bureau ofRefugees, Freedmen, and Abandoned Lands, in the aftermath of the Civil War to aid emancipated African Americans and poor White Southerners. The Bureau aimed to provide food, protection, medical assistance, legal aid to obtain back wages and pensions, and promoted education and legal marriages among former slaves. It also negotiated labor contracts for African Americans in the South.  However, Congress underfunded the Freedmen's Bureau and it ceased operations in 1872.
But its papers live on for researchers and future generations. Due to advances in imaging technologies, the Smithsonian has been able to capture high-quality photos of the documents. However, OCR technology cannot decipher handwriting (and many different handwriting styles no less). So, it falls to volunteer transcribers to turn the images into raw texts, making them searchable and therefore more useable to scholars and the interested public. At our transcribe-a-thon, we learned this was easier said than done. Deciphering script can prove challenging, especially for those of us who do not regularly write in cursive. But teamwork made it possible, both in the moment and as part of the official procedure. Microcrowdsourcing with the transcribers at my tables helped tremendously with illegible words. Moreover, the Smithsonian Transcription Center's platform is designed so that one volunteer transcribes, then a second random volunteer double-checks the transcription and makes necessary edits. Finally, the Smithsonian reviews the text.
Repetition also helped with the process. I ended up transcribing and reviewing a set of documents dealing with a physician from a Freedmen's Bureau hospital in North Carolina who stole supplies from the Bureau and sold them for his own profit. Knowing his name and those of the involved parties, as well as their military ranks, made transcribing the second, third, and forth documents a lot smoother.
As a historian, I feel a thrill jumping into a particular moment from the past and it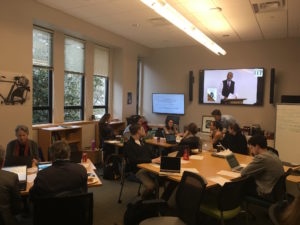 seemed everyone at the event shared my enthusiasm.  Knowing we were 10,000-strong across the U.S. added to the excitement. The livestream from CCP and NMAAHC started off with "Lift Every Voice and Sing"—the Black American National Anthem—and included a reading from Douglass's 1876 speech, histories of the Colored Conventions Movement and the Freedmen's Bureau, and lots of shots of cakes and cookies from various events.  Our cupcakes were from the Cupcake Collection, which followed a pizza feast from Slim & Husky's, both Black-owned businesses in Nashville (and both offering delicious food).
I hope this event inspires us to host future transcribe-a-thons here at Vanderbilt.  Or that it inspires others to volunteer an hour here or there to transcription. The Smithsonian Transcription Center is available 24/7 (and I have to admit I have found myself transcribing late at night for fun).  All in all, we had a wonderful time celebrating Frederick Douglass Day. Many thanks to the Colored Conventions Project, my co-coordinator Nathan Dize (French Dept.), Mickey Casad and Jim Waters from the Digital Humanities Center for making this happen, Mona Frederick from the Robert Penn Warren Center for her support and co-sponsorship.