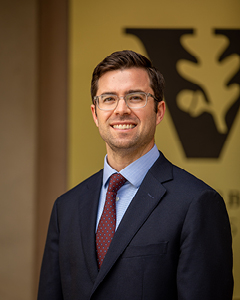 Shea Conaway
---
Hometown: Memphis, Tennessee
Educational background: Political Economy, Princeton University
Work experience: After my undergraduate degree, I worked on data-centric projects in different roles across the public and private sector. These include collecting workload metrics for state judicial districts, targeting online advertising of insurance products, and automating human capital reporting in higher education. With broad exposure to the application of basic analytics to real world problems, I'm ready to explore the possibilities of cutting edge data science.
Why data science? By developing my data science skillset, I plan to tackle more advanced and creative projects in a team leadership role. Producing high-impact insights and communicating effectively to key stakeholders requires a deep understanding of the technology, and I'm excited by the challenges and opportunities in a data science career.
Why did you choose Vanderbilt? The vision and principles of the Vanderbilt program are impressive and align with my goals. In a data science project, deciding what questions to ask and presenting the findings are just as important as the technical execution. The Data Science Institute has organized a course of study to address each step of this process.
What are your hobbies / what do you enjoy doing outside of work and academics? I'm an avid squash player and cyclist. If I'm not in a lecture, a study group, or the library, you're likely to find me on the squash court at the recreation center or on my bike along the Nashville greenways.
---