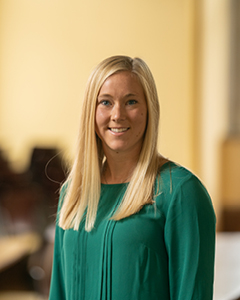 Sarah Torrence
---
What is your hometown? Rockford, IL
What is your educational background? Major in Mathematics and Minor in Economics from Denison University
What is your working experience? I spent a summer assisting in criminology research at Cambridge Univeristy, spent a year working at Denison University as the Program Coordinator for the Data Analytics major and spent 3 years at EY as a Senior Data Analyst.
Why data science? Data Science is not a set field of study, but an ever-changing innovative way of improving the world through analytics and creativity. Data science is an exciting way of using the data of our past to create a better future.
Why did you choose Vanderbilt? The program and curriculum seem very robust and well thought out. Vanderbilt is prioritizing data science in instating the Institute of Data Science and continually growing the master's program and institute. There also seems to be a wide variety of opportunities to get involved in research around campus and discover different career options. I felt Vanderbilt's program was more focused on the student's and building their skills than on career outcomes and statistics.
What are your hobbies / what do you enjoy doing outside of work and academics? I was a varsity tennis player in college and love all sports. I enjoy the outdoors, running, traveling and cooking.
---