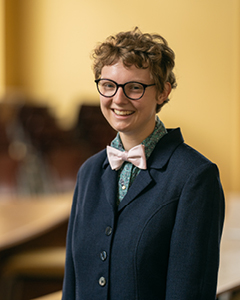 Myranda Uselton
---
What is your hometown? Spring Hill, TN
What is your educational background? BS in Chemistry, minors in mathematics and computer science at Middle Tennessee State University
What is your working experience? AR/VR software developer at the James E. Walker Library at MTSU, intern at NASA Glenn Research Center, and intern at CrossRoads Missions in New Orleans
Why data science? While completing my chemistry degree, I found that I hated doing labs, but I loved analyzing the data from them.
Why did you choose Vanderbilt? Vanderbilt is a prestigious research university and one of the only schools to offer a data science degree. I've been hoping to earn an advanced degree from Vanderbilt since high school because of its stellar academics and proximity to my family.
What are your hobbies / what do you enjoy doing outside of work and academics? Outside of STEM, I studied clarinet through all years of my undergrad degree, and I still hope to keep it up during graduate school. I'm also passionate about missions and community service, and I go to New Orleans to work with CrossRoads Missions every summer.
---