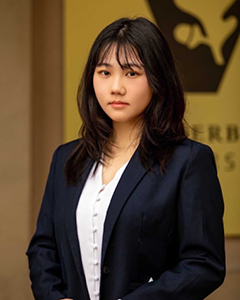 Hongyu Dai
---
Hometown: Fujian, China
Educational background: Math/Applied Math, Zhejiang Gongshang University
Why data science? I'm a big fan of both math and computer science. In my opinion, the best way to combine them is through data science. I hope I can improve my ability in our data science program, and do some amazing work in the future.
Why did you choose Vanderbilt? Vanderbilt is a prestigious university with a great reputation. I was attracted by the high quality of its programs and the good student-to-faculty ratio.
What are your hobbies / what do you enjoy doing outside of work and academics? Reading novels and playing games, especially speculative ones. The most recent thing I want to do is to learn ice-skating.
---