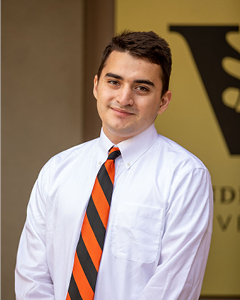 Henry Savich
---
Hometown: Clarksville, Maryland
Educational background: B.A. in Mathematics, Vanderbilt University
Why data science? Data science seemed like the perfect way to use my math background to develop a powerful and versatile professional skillset.
Why did you choose Vanderbilt? As a Vanderbilt undergraduate I participated in the DSI Summer Research Program where I met some of the fantastic people who work with the DSI, so when I decided to pursue a master's in data science I knew Vanderbilt was a strong choice.
What are your hobbies / what do you enjoy doing outside of work and academics? Since high school I have been competitively solving Rubik's Cubes. To data I've competed in over 60 competitions on 3 different continents.
---