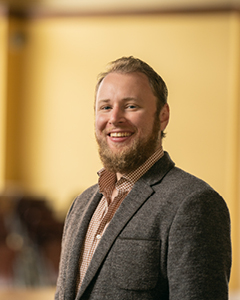 Daron Greenblatt
---
What is your hometown? Englewood, NJ
What is your educational background? Economics Major at Yeshiva University
What is your working experience? Data Analyst at KPMG and Data Analyst at Clare Medical
Why data science? Data Science, to me,  is a crossroads of mathematical rigor and analysis combined with the pioneering computational technology, which are pushing the envelope of our world's capabilities. It is a special time to be able to do what we are training to do!
Why did you choose Vanderbilt? Vanderbilt has it all. From the academic resources and track record that make it a world-class university, to its location in the heart one of the fastest-growing and in-demand cities. I'm coming from New York City, so bring on the culture-shock, Nashville!
What are your hobbies / what do you enjoy doing outside of work and academics? Cooking a delicious chilli while listening to a podcast (and many other dishes!), competing on the tennis court and at most other sports, following sports and geeking out on basketball-reference.com, and playing chess, Texas-holdem, backgammon and word puzzles.
---