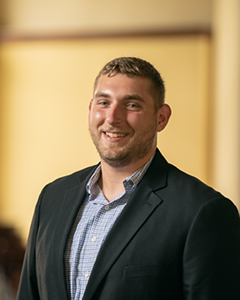 Connor Mignone
---
What is your hometown? Redding, CT

What is your educational background? I graduated from Central Connecticut State University. I majored in mathematics with a specialization in actuarial science.
Why data science? I really found a passion for data science during my senior year of college. During this time, I took my first data science course. The emphasis of the class was an open-ended project where students worked all semester on a subject of their choice, and at the end of the course presented their findings. For my project I used R to predict where college football players would get drafted into the NFL based on athletic measurables. Since that course, I've had a passion for the possibilities of data science.
Why did you choose Vanderbilt? Vanderbilt's reputation as a top academic school precedes itself. I also wanted to be apart of a new program at a top university. I knew it was the right decision after seeing Vanderbilt and Nashville in person.
What are your hobbies / what do you enjoy doing outside of work and academics? I'm a student-athlete here at Vanderbilt, so outside of academics, most, if not all, of my time is committed to the team here. When the opportunity presents itself, I like to spend time with friends, fish, and ski.
---