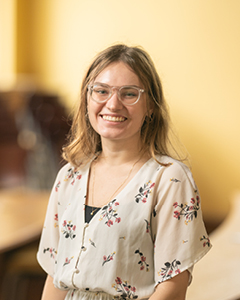 Amanda Konet
---
What is your hometown? Broadview Heights, OH

What is your educational background? B.S. in Data Analytics with a minor in Women's, Gender and Sexuality Studies from the Ohio State University
What is your working experience? I had several internships throughout my undergraduate studies in data analyst and data scientist roles at companies such as Nationwide Mutual Insurance and Abbott Laboratories. I was also involved in several analytics-related research projects, such as one that examined the Opioid Crisis in relation to race and another that looked into using design to promote positive thinking.
Why data science? I enjoy data science because it is an incredibly broad field of study that be applied in almost any industry. Further, there are dozens of ways to solve any one data science problem and there is always more to learn. Personally, I am interested in using data science in projects that have social impact, whether that be a company with a socially-responsible goal, a nonprofit organization, a government agency, or a research institute. Data science can be used to uncover instances of inequality as well as propose solutions!
Why did you choose Vanderbilt? Vanderbilt has a well-rounded program with emphasis on practice and team work. The program directors are helpful and interested in the success of their students. I hope to expand on my data science skills from undergrad and work experience!
---