Illuminating Insights: A Dashboard for Nashville's Creatives
In a collaboration between Vanderbilt University and the Arts and Business Council of Greater Nashville (ABC), the ABC's of Creative Artists in Nashville project was undertaken to better understand the economic circumstances of working artists and creative entrepreneurs in Greater Nashville. Inflation, the rising costs of housing, broader economic factors – how is this impacting our creative artists? What are their unique needs, and what support and infrastructure is needed to enable creatives to practice their artistry as their primary income source? In Spring 2023, an interdisciplinary project team of composed of the DSI's Data Science Team data scientists, ABC executive leadership, and graduate and undergraduate students from diverse academic backgrounds sought to find the answers to these questions.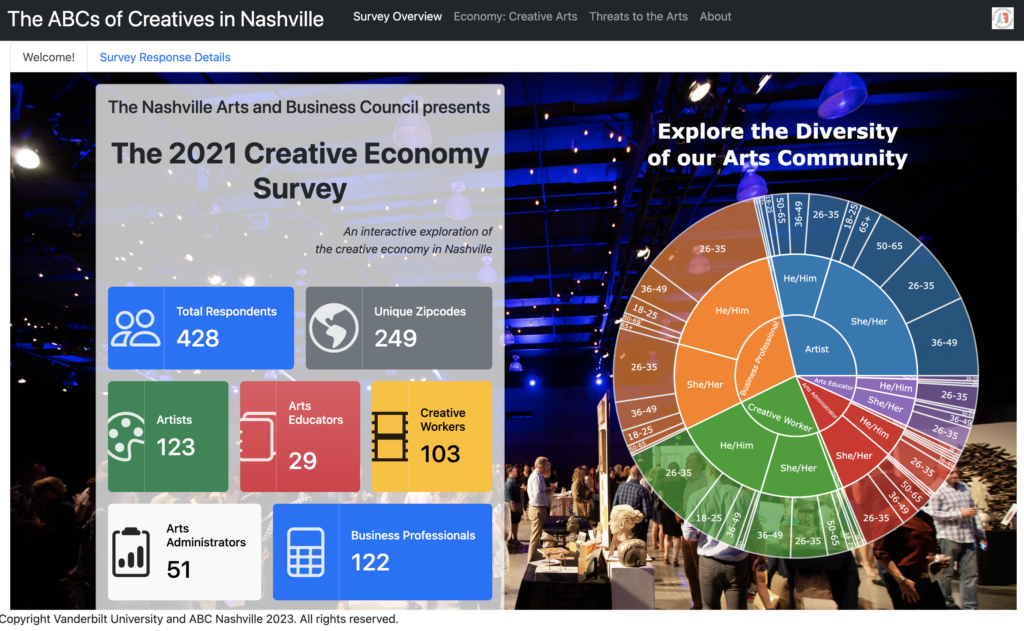 To meet these needs, the team analyzed the 2021 Creative Artists Survey data, empowered by the diverse skill sets provided by the team membership. The project captured the spirit of data science, bringing together students with expertise in surveys, social justice, and user interface design; computer and data scientists; and project managers to creative reproducible and extensible analytical reports, as well as a public-facing data dashboard. With these tools, the generated analytical reports help to provide ABC context to inform data-driven decisions for directly addressing the needs of community, as well as providing the arts community a window into their shared experiences in Nashville. Additionally, the project aims to grasp the tangible value of arts in the business community and any priorities from funders. 
During this project, the team navigated the true terrain of real world data and analytics, including conveying meaningful survey data in an aesthetically pleasing way; identifying and refining business questions to be explored through the data; generating clear analytical reports, designing and revising survey questions, and creating a user-friendly interface. These challenges provided valuable real world experiential learning opportunities in data analysis, visualization, user interface development, and communication.
The project, under the guidance of Senior Data Scientist, Dr. Charreau Bell and ABC's Director of Programs, Jonathan Harwell-Dye, included the following team members:
Jonathan Harwell-Dye, Principle Investigator, ABC Nashville
Charreau Bell, Ph.D. Senior Data Scientist, DSI
Yuning Wu, M.S. in Data Science Graduate student (Project Manager)
Xishan Deng, M.S. in Data Science Graduate student
Shalini Thinkaran, Undergraduate student
Katherine Oung, Undergraduate student
Max Herman, Undergraduate student
Kyle Spottiswood, Undergraduate student
The team is looking forward to the revised release of the dashboard and survey results, and a new analysis of the 2023 survey data.