Register
What do I do first?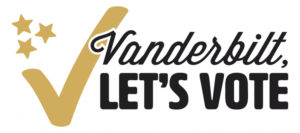 Visit TurboVote, a resource for the Vanderbilt community that enables voter registration and provides updates so voters can stay informed about election details.
Determine if you are already registered to vote
The sites below will direct you to your state's site for determining voter registration status:
CanIVote provided by National Associations of Secretaries of State
What does it mean to register to vote?
In most states, you must register with your state in order to be eligible to vote in elections. You may only register to vote in one state as registering to vote requires residency in that state. Federal and state elections are operated by the states themselves and no two states have identical registration and voting processes.  You may register to vote in person at:
Your state or local election office
The DMV
An armed services recruitment center
State and county public assistance offices
You may register to vote by mail using either your state's voter registration form or the National Mail Registration Form. Many states also offer online voter registration. It is important to note that registering to vote by mail or online may require you to vote for the first time in person. Take this into consideration when making your plan for voter registration and voting.
Make your voting plan
Answer these questions:
Will I register to vote in Tennessee or in my home state?
Will I vote absentee or travel home to vote in person on Election Day or during early voting (if available)?
How will I find and keep track of the voter registration and ballot request deadlines?
How will I keep up-to-date with upcoming election dates?
How will I stay informed on current issues, elections, and candidates, whether in Tennessee or my home state?
What type of ID is required by the state in which I am voting?
Registering to vote at home versus in Tennessee
Many Vanderbilt students move to campus as residents of states other than Tennessee. By law, no person may vote in more than one jurisdiction; so each student, depending on their unique situation, must decide which state and city they consider their place of residence, which is where they should then be registered to vote. Residency not only affects which state one will vote in but also in matters of driver licensure, insurance, etc. The Tennessee Secretary of State's office has guidance on determining residency here. Other states may have different criteria for determining residency. See the links below under "Voting Requirements and Procedures by State" for more information.
To register to vote using your on-campus address, you will need to list the physical address of your residence hall. Those addresses can be found here.
Election Reminders
Many students do choose to remain registered to vote in their home state. Due to distance, remaining informed and up-to-date on current issues in that area and upcoming elections can be challenging. Multiple websites offer an election reminder service. After signing up with an e-mail address and zip code, these sites will send you an e-mail with relevant voting information in advance of an election occurring in the specific zip code.
Voter Registration Forms – Paper and Online
Qualified voters may pick up a Tennessee registration form at any of the following locations:
Jean and Alexander Heard Library (419 21st Ave. S.
The Commons Center
Sarratt Information Desk
Office of Religious Life (401 24th Ave. S.)
Absentee Ballots
Students may be eligible to request an absentee ballot if they are not able to be present at the polls. Absentee ballots must be requested in advance for most states. It is important that you keep the deadlines for your state in mind when you make your voting plan!
Some states require that absentee ballots be notarized. A number of notaries public work at Vanderbilt, and they would be happy to help! Find names and contact information for notaries public on campus.
Proof of Residency
If you registered in Tennessee by mail and are voting for the first time in Davidson County you may need to show proof of residency. Please contact the Office of Housing and Residential Education (OHARE) to request a confirmation of residency letter on university letterhead. The letter of residency should list your specific residence hall and the physical address of your residence hall (not your PMB number).
Tennessee Voter ID Laws
All voters must present a federal or Tennessee state ID containing the voter's name and photograph when voting at the polls, whether voting early or on Election Day unless an exemption applies. Please note that Vanderbilt University IDs and IDs issued by other states will not be accepted.
Learn more about what forms of ID are acceptable according to Tennessee Voter ID Law.
What If I Don't Have an ID?
If you are a registered voter and do not have a government-issued photo ID, the Department of Safety and Homeland Security will provide you with a photo ID at no charge. Citizens may obtain these IDs at 48 of the Driver Service Centers across the state. For a photo ID, each applicant must also sign an affidavit under penalty of perjury stating that he or she does not have a valid government-issued photo ID for voting purposes.
Learn more about requesting a free photo ID from the Department of Safety and Homeland Security.