New Sesquicentennial Oak Tree joins Vanderbilt's green canopy
As Vanderbilt University dares to grow while observing its Sesquicentennial this year, the campus welcomes a new tree to mark the occasion.
Chancellor Daniel Diermeier and members of the Vanderbilt community gathered for a small ceremony on April 24 to commemorate the planting of the Sesquicentennial Oak Tree, which is located near Garland Hall and Buttrick Hall.
The tree planting follows the recent loss of the Bicentennial Oak, which was Vanderbilt's oldest specimen at around 250 years old. It fell in November due to age–related decay, although some of its wood was salvaged for other uses to preserve a piece of history. The newly planted Bur Oak is near the site where the Bicentennial Oak used to stand.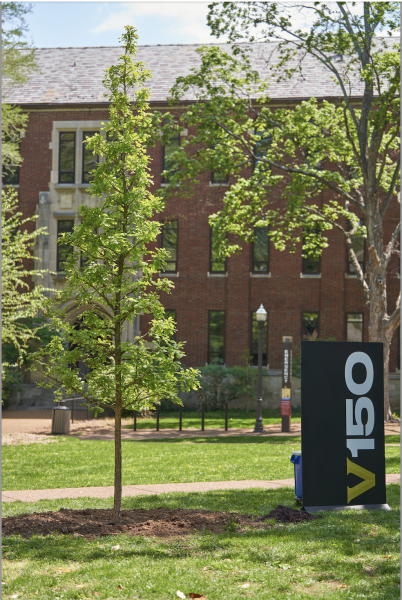 The Bur Oak is the first part of a robust plan to plant more tress in honor of Vanderbilt's 150th anniversary, said James Moore, university landscape architect.
"This tree, while special in its name and what it signifies, is one new addition in a long history of tree planting at Vanderbilt," said Moore. "We are excited to soon share more information about the future of tree planting at Vanderbilt," he added.
Vanderbilt, whose campus was first referred to as an arboretum in 1879 and is home to nearly 200 species of trees and shrubs, has flourished for nearly 150 years as a green spot amid Nashville's ever–expanding urban footprint. Earlier this year, campus planners announced the development of an official tree replacement policy to ensure that Vanderbilt's tree canopy is preserved whenever building projects are initiated.
In line with canopy goals outlined through FutureVU, the university's land use framework for future development, the new policy will help campus partners think critically about designs that would avoid removal or damage to the root zone of significant trees.
If trees must be removed or the root zone damaged, the policy provides guidelines for how to replenish the canopy. Eric Kopstain, vice chancellor for administration, noted the planting of the new tree and development of the policy is an example of how Vanderbilt prioritizes sustainability.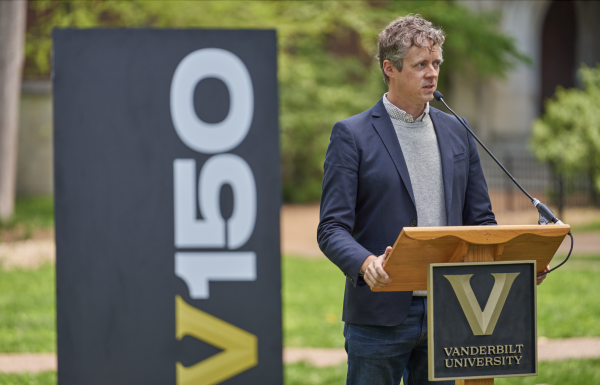 "Prioritizing sustainability, and maintaining the arboretum for future generations, are primary goals for our FutureVU initiative," said Kopstain. "I'm pleased to see additional greenery added to campus as we envision what the next 150 years at Vanderbilt will look like."
Vanderbilt is an accredited Level II arboretum with ArbNet, the preeminent certifying agency of arboreta around the world.