Clintons announce program for CGI U 2023 meeting at Vanderbilt University March 3–5
With a theme of "Homecoming: Strengthening Community, Leadership and Action," this year's Clinton Global Initiative University meeting will tackle pressing global challenges, including climate change, reproductive rights for girls and women and protecting human rights and health equity. It will be the first in-person CGI U meeting in five years and will be at Vanderbilt University on March 3–5.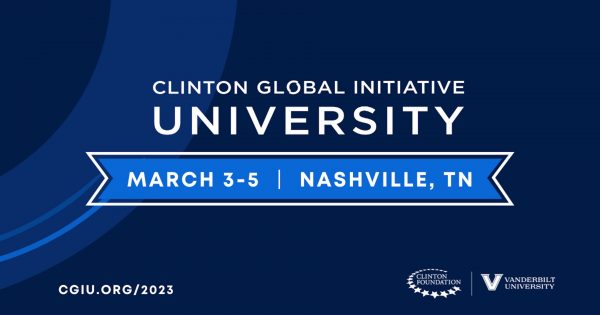 "Vanderbilt is committed to empowering the next generation of leaders and to establishing forums for these exceptional students to learn from one another's diverse passions and backgrounds," said Daniel Diermeier, chancellor of Vanderbilt University. "We are especially honored to host this program during Vanderbilt's 150th anniversary year, in-person and in our university community's own 'home'—the evolving and dynamic city of Nashville." 
Building on the momentum from the Clinton Global Initiative's 2022 meeting, this spring's CGI U will bring together aspiring leaders and global experts in business, public service and social impact to develop innovative solutions to the world's most pressing challenges. President Bill Clinton, Secretary of State Hillary Rodham Clinton and Clinton Foundation Vice Chair Chelsea will all be on hand for the event. 
Other featured participants include Pete Buttigieg, U.S. secretary of transportation; Melissa Diamond, founder of A Global Voice for Autism; Pashtana Dorani, executive director of LEARN Afghanistan; Allyson Felix, five-time Olympian and co-founder of Saysh; Sasha Fisher, co-founder and executive director of Spark MicroGrants; Larissa May, founder and executive director of #HalfTheStory; Ai-jen Poo, president of the National Domestic Workers Alliance;  Belinda 'Otukolo Saltiban, associate vice chancellor for equity, diversity and inclusion of Vanderbilt University; Reshma Saujani, founder and CEO of Moms First; and more.  
In addition to the program, CGI U will bring together students, alumni and other volunteers for a Day of Action – an opportunity to mobilize and provide meaningful community service on and off the Vanderbilt campus. Through a partnership with Hands On Nashville, the CGI U community will provide food to families with Second Harvest Food Bank, prepare flashcards and school supplies for students with PENCIL, and clear land for an upcoming cultural center with the Native American Indian Association of Tennessee. 
"The hundreds of students gathering for CGI U are committed to working together to lift their communities and foster a sense of belonging," said Ragina Arrington, CEO of CGI U. "In an increasingly divided world, the students who come to CGI U are embracing their own desire and responsibility to work together to lift up their communities." 
The CGI U 2023 Annual Meeting will kick off a year of learning, leadership and action by supporting emerging student innovators as they develop solutions to challenges in their community. This year's cohort will also announce new Commitments to Action—specific, measurable programs that address a pressing global challenge.  
Students will also have the opportunity to learn innovative ways to create community through conversation at CGI U's Story Studio. Building on President Clinton's storytelling legacy, Story Studio is an informal and relaxed space where students can hear inspirational stories from trailblazers and innovators at the front lines of our biggest common challenges. 
"CGI University has proven what's possible when you bring together thousands of motivated young leaders to take action on the biggest challenges facing campuses, communities and our world today," Chelsea Clinton said. "CGI U students share a commitment and drive to take action and I couldn't think of a better place to host this year's meeting than Vanderbilt University with their dedication to connecting students and people from around the world in pursuit of fearless inquiry, innovation and progress." 
Since the founding of CGI U, more than 11,800 university students have launched more 8,000 Commitments to Action. Vanderbilt University joins CGI U's history of host campuses, including the University of Chicago, the University of Miami, Arizona State University, Washington University in St. Louis, George Washington University, the University of California San Diego, the University of Texas at Austin and Tulane University. 
Please visit cgiu.org/2023 to see the full CGI U program.  
About CGI U 
Founded by President Bill Clinton in 2007, the Clinton Global Initiative University is a community of students taking action together on pressing challenges facing their campuses, communities and the world. Through the Clinton Global Initiative's power of convening and Commitment to Action model, thousands of students have made an impact in more than 160 countries and all 50 states—with the support of more than $4.5 million in funding from CGI U's corporate and university partners. Now in its 15th year, CGI U's robust year-round program engages students, alumni, colleges and universities, and influential voices in creating new ways to bring about change on the topics that matter most to the next generation of leaders. 
About Vanderbilt University 
Vanderbilt University is a globally renowned research university in Nashville, Tennessee. Ranked No. 13 among national universities, Vanderbilt offers an immersive living-learning undergraduate experience, with programs in the liberal arts and sciences, engineering, music, education and human development. The university also is home to nationally and internationally recognized graduate schools of law, education, business, medicine, nursing and divinity, and it offers robust graduate degree programs across a range of academic disciplines. Vanderbilt is committed to inclusive excellence, drawing the world's brightest students, faculty and distinguished visitors from across all cultural and socioeconomic backgrounds, and it provides a collaborative atmosphere of discovery that drives positive change in the world. Learn more at www.vanderbilt.edu. 
About the Clinton Foundation 
President Bill Clinton established the Clinton Foundation on the simple beliefs that everyone deserves a chance to succeed, everyone has a responsibility to act, and we all do better when we work together. For more than two decades, those values have energized the work of the foundation in overcoming complex challenges and improving people's lives. The foundation works on issues directly or with strategic partners from the business, government and nonprofit sectors to create economic opportunity, improve public health and inspire civic engagement and service. Our programs are designed to make a real difference today while serving as proven models for tomorrow.