Hawkins Field outfitted with energy-saving LED lights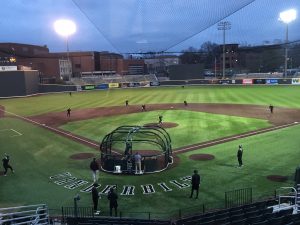 Read the MyVU Story here.
Hawkins Field, home of Vanderbilt's national championship baseball team, recently received a makeover for the 2016 baseball season, replacing all existing High-Intensity Discharge (HID) fixtures on the field with fewer Light-Emitting Diode (LED) fixtures. 152 HID fixtures were replaced with 98 LED fixtures, improving light quality on the field but reducing the energy used by 60%.
LED fixtures have the advantages of lower energy use, longer lifespan requiring less maintenance, and no warm-up time needed to turn on. Even though there are fewer fixtures using less energy, the specific fixtures used at Hawkins Field were specially-designed to meet high-definition television (HDTV) and ESPN broadcasting specifications and allows Vanderbilt to still meet NCAA standards for light levels for televised and non-televised games.
Eaton's Ephesus Lighting installed the new lighting system with coordination by Vanderbilt University Plant Operations and Vanderbilt University Athletics. An Ephesus system was also installed in Bridgestone arena for the Nashville Predators and the National Hockey League All-Star games in January 2016.
For more information on Hawkins Field, Vanderbilt Baseball, or Vanderbilt Athletics, visit www.vucommodores.com. For more information on energy conservation measures at Vanderbilt, visit the SustainVU website or contact the sustainability and environmental management office (SEMO) at sustainvu@vanderbilt.edu or 615.322.9022.