Vanderbilt partners with Nashville MTA to develop Transit-Hub app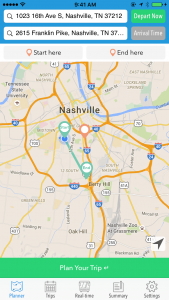 Nashville Metropolitan Transit Authority (MTA) is now working with the Institute for Software Integrated Systems at Vanderbilt University to develop smarter and easier to use applications for commuters in middle Tennessee. As the need for public transportation increases, the need for easy-to-use and commuter friendly systems become increasingly important. The T-HUB app provides these tools for commuters.
Key features of the app include a real-time bus tracker, navigation, service alert notifications, calendar-based personal transit schedule management / notification and a comparison view to evaluate different trip options. By making public transit more predictable, the app encourages customers to use public transit more often. The comparative route view compares public transit options against the cost of using a car. A summary view provides the cumulative time customers have spent using public transit, and that information can be shared with friends.
This system is powered by real-time vehicle locator data provided by the Nashville MTA and cloud-based smart analytic services developed by the SCOPE and MAGNUM labs at Vanderbilt's Institute for Software Integrated Systems under a research project sponsored by the National Science Foundation (NSF).