Printing Services 2.0 Includes Environmental Stewardship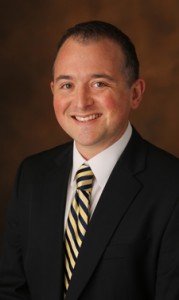 Read the MyVU story here.
Vanderbilt Business Services has named Sean Carroll as director of Printing Services.
Carroll, a graduate of the University of Tennessee, has more than 15 years of leadership in the graphic communications industry and began his Vanderbilt career as assistant director of Printing Services in 2011.
"Sean's wealth of industry knowledge, high standard for customer service and strategic vision have already had a tremendous impact, and I am confident that his leadership will result in outstanding service to Vanderbilt from a best-in-class operation," Assistant Vice Chancellor for Business Services Laura Nairon said.
In addition to Carroll's promotion to director, Printing Services is embarking on an exciting new direction and strategic plan. This roadmap, dubbed "Printing Services 2.0," caps a nearly six-month-long planning process that involved extensive financial analysis, customer surveys and focus groups. The result is a new operating mission and expanded charter, that includes an expanded emphasis on environmental stewardship.
"Along with our commitment to environmental stewardship through our FSC certification, Printing Services will offer best-in-class technology to support our colleagues' needs," Carroll stated.
The Forest Stewardship Council (FSC) certification system provides internationally-recognized standards in responsible forestry. In order to obtain certification, a product's entire supply chain must meet the FSC-certification process which serves the best interests of people, wildlife, and the environment. FSC-certification is globally recognized as being the most credible and stringent system for ensuring well-managed forests. If paper must be purchased that does not contain 100% recycled content, then the non-recycled wood content, or virgin wood, should be obtained from an FSC-certified forest and meet all FSC-requirements.
Read more about green printing here.