Vanderbilt and Pittsburgh to lead new center to identify toxic chemicals
Each day we are bathed in thousands of man-made chemicals that never existed in nature. They are in cosmetics and shampoo, food packaging and plastic containers, clothing and building materials, furniture and electronic devices.
Although the U.S. now produces more than 500 million tons of synthetic chemicals annually, a major "toxicological information gap" has developed regarding the risks they pose to human health and the environment. According to a number of government reports, less than 10 percent of the 80,000-odd chemicals in general commerce have been tested adequately to determine their health risks.
The U.S. Environmental Protection Agency (EPA) has announced the establishment of three new centers to develop alternative approaches for toxicity testing that could help fill the troubling gap. One is the Vanderbilt-Pittsburgh Resource for Predictive Toxicology (VPROMPT), which will receive $6 million for four years to develop toxicity test procedures based on three-dimensional human cell cultures, rather than the combination of standard two-dimensional cell cultures and whole animal testing that has been de rigeur until now.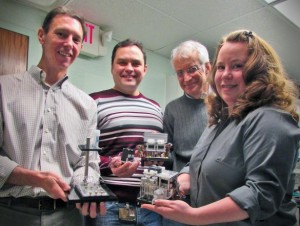 VPROMPT is a collaboration between investigators at Vanderbilt University and the University of Pittsburgh. The lead principal investigator is M. Shane Hutson, associate professor of physics at Vanderbilt. The five co-principal investigators are Research Associate Professor Lisa McCawley, Professor Kevin Osteen, director of the Women's Reproductive Health Research Center, and Gordon A. Cain University Professor John Wikswo at Vanderbilt and Rocky Tuan, director of the Center for Cellular and Molecular Engineering, and D. Lansing Taylor, director of the Drug Discovery Institute, at Pittsburgh.
Read the full Vanderbilt News story here.