'If You Stay, Use a Tray': A Dining debate over convenience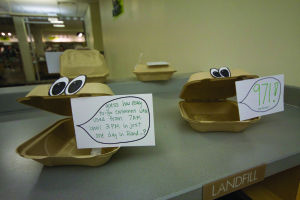 [Originally published by InsideVandy]
Since Vanderbilt Campus Dining unveiled an HOD group's "If You Stay, Use a Tray" campaign in Rand, which began March 24, 687 fewer to-go boxes were taken out of Rand Dining Center on weekdays during breakfast and lunch hours, a decrease of about 137 boxes per day.
Through posters, social media, stickers, to-go box signs and buttons worn by Dining workers, the initiative intends to promote awareness of sustainability by encouraging people staying in Rand to eat off of plates instead of using disposable boxes, said Morgan Frazier, team leader of the Ambitious Advocates' Alliance, the HOD 1100 group responsible for the idea.
AAA's initial idea was to reduce the usage of pizza boxes and salad containers coming out of Pi and Leaf in Rand Lounge. When they approached Campus Dining, however, Dining Sustainability Coordinator Suzanne Herron brought up the large amount of to-go boxes, called "clamshells," used by people who weren't actually eating outside of Rand.
The timing was perfect. As early as February, Campus Dining had already posted table tents on napkin dispensers about the usage of takeout boxes in Rand, and, according to Campus Dining Director Camp Howard, the department had been planning to pilot a program in the spring to raise awareness about sustainability. The members of AAA joined forces with this pre-existing movement.
Although the to-go boxes are biodegradable, the costs of producing them and tossing them into a landfill are substantial. On a Thursday prior to the start of the initiative, Campus Dining recorded that 971 boxes were used in Rand from 7 a.m. to 3 p.m., but Herron estimates that many more was the norm.
"If you just wanted to estimate that, prior to this campaign there were easily 1,100 clamshells going out daily, easily, and let's just estimate that maybe those clamshells cost around $0.25 each, that's what's going out the door," Herron said. "Cost is important not just because we're trying to save money … it translates to how much the meal plan costs. All financial aspects contribute to a bigger picture."
According to Herron, since the campaign's inception, the Dining staff has been instructed to use a reusable plate unless asked otherwise, even during dining rushes. At Leaf, workers also give customers planning to dine in a salad without a plastic cover. To-go boxes, once piled up in blatant view of Rand customers, have now been placed to the side.
"Hopefully it's a win-win-win," Howard said. "The students are winning because they're in this class and they're going to accomplish and learn something through this process. Campus Dining is obviously — hopefully — going to benefit too because we can reduce the amount of paper that we're supplying, and that's a financial burden, and it's also a burden from just taking the trash out … And it's a win for the earth, because we're putting less stuff in the landfill."
Herron maintained that convenience should not be students' top priority.
"I always tell people doing the right thing for the environment, in terms of whatever it may be, recycling or whatever, it's not convenient," she said. "Often doing the right thing is not about convenience, it's about simply doing the right thing."
Read the full story here.