William Nordhaus to speak on the economic perspective on climate change
On Friday, April 5th from 4pm – 5:30pm, William Nordhaus, Sterling Professor of Economics at Yale University, will be speaking in Wilson Hall Room 126 on "The Economic Perspective of Climate Change" as part of the McGee Public Policy Lecture Series. A reception will follow immediately.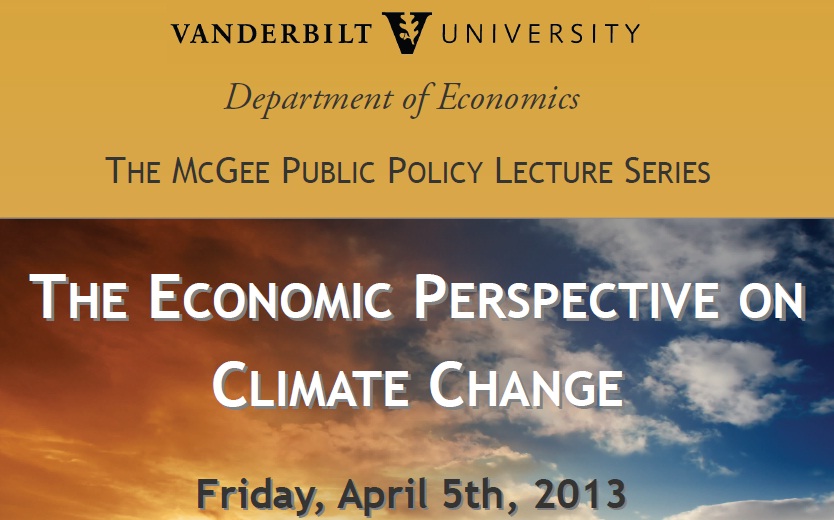 William Nordhaus is Sterling Professor of Economics at Yale University, New Haven, Connecticut, USA. He was born in Albuquerque, New Mexico (which is part of the United States). He completed his undergraduate work at Yale University in 1963 and received his Ph.D. in Economics in 1967 from the Massachusetts Institute of Technology. He has been on the faculty of Yale University since 1967 and has been Full Professor of Economics since 1973. He is also Professor in Yale's School of Forestry and Environmental Studies. Professor Nordhaus lives in downtown New Haven with his wife Barbara, who works at the Yale Child Study Center.
Nordhaus is a member of the National Academy of Sciences and a Fellow of the American Academy of Arts and Sciences. He is on the research staff of the National Bureau of Economic Research, the Cowles Foundation for Research, and has been a member and senior advisor of the Brookings Panel on Economic Activity, Washington, D.C. since 1972. Professor Nordhaus is current or past associate editor of several scientific journals. He was the first chair of the Advisory Committee for the Bureau of Economic Analysis and of the American Economic Association Committee on Federal Statistics. In 2004, he was awarded the prize of "Distinguished Fellow" by the American Economic Association.
He is the author of many books, among them Invention, Growth and Welfare, Is Growth Obsolete?, The Efficient Use of Energy Resources, Reforming Federal Regulation, Managing the Global Commons, Warming the World, and (joint with Paul Samuelson) the classic textbook, Economics, whose nineteenth edition was published in 2009. His most recent book on economic modeling of climate change, A Question of Balance (Yale University Press, 2008), was selected by Choice magazine as an Outstanding Academic Title of 2008.  Read more about Nordhaus and his research here.