Professor Hannah Wiseman to speak on natural gas fracturing
On Wednesday, March 28 at 4pm Hannah Wiseman, assistant professor of law at Florida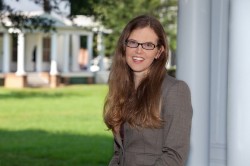 State University College of Law, will be speaking in the Covington Room at Vanderbilt Law School on "Natural Gas Fracturing, Federalism Debates and the Regulatory Divide" in a lecture sponsored by the Vanderbilt Law School Energy, Environment, and Land Use Program. The event is free and open to the public.
Natural gas fracturing has produced an energy boom in the United States and some experts predict it will lead the way toward U.S. energy independence. At the same time, fracking raises serious environmental concerns and has led many to question its unfettered development.
This lecture, by a leading legal scholar on the subject, will explore the recent, rapid expansion of oil and gas development in the United States, driven largely by hydraulic fracturing and drilling in shale formations, and the legal issues that arise in its wake.
Wiseman is an assistant professor of law at Florida State University College of Law. She is a graduate of Dartmouth College and Yale Law School.  She was also managing editor of the Yale Journal on Regulation and received the Israel H. Peres prize for the best student note or comment appearing in the Yale Law Journal in 2007.