Vanderbilt Sustainability Competition: Are You the Greenest Group on Campus?
Vanderbilt Sustainability Competition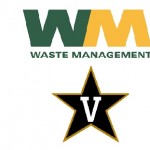 Be the Greenest Group on Campus
Presented by Waste Management
All groups, teams, departments and campus organizations are invited to compete to be the greenest group on campus. To enter, a group captain, leader or representative must complete the competition survey.

Deadline for entry is Feb. 20, 2013
Entries can be submitted by email, fax or online.

Email: sustainvu@Vanderbilt.edu
Fax: 615-343-0023
Online: Click Here
A winner will be announced on Mon. 25, 2013
The winning group will receive the following:
Private Hospitality Event for the Vanderbilt vs. Georgia Basketball Game on February 27, 2013, for 20 people.
VIP Event includes:
Private Event Located in Crow's Nest at Memorial Gym
20 Game Tickets
Seating for 20 people
Catered Buffet Style Meal & Drink Station
Game Roster cards
For questions, please contact Jane DeWitt at 615-936-1088