Vanderbilt Central Library earns gold for 'green' renovation
by Ann Marie Deer Owens
[Article originally published by Vanderbilt News Service]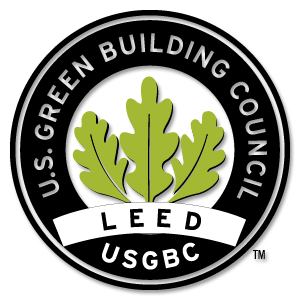 Vanderbilt University's Central Library has been awarded gold certification for its environmentally friendly 2010 renovation from the U.S. Green Building Council's Leadership in Energy and Environmental Design (LEED) Green Building Rating System.
The recognition makes the Central Library the first Vanderbilt campus renovation to achieve this high honor. Vanderbilt University has a total of 12 LEED-certified buildings.
"We are thrilled that the renovation exceeded our initial sustainability goals and the recognition speaks to the dedication and commitment of the entire planning team," said Connie Vinita Dowell, dean of libraries at Vanderbilt.
The library's Green Team is working with its renovation partners to host a celebration on March 29 from 11:30 a.m. to 1:30 p.m. in the Central Library's fourth floor lobby. Participating groups include the Sustainability and Environmental Management Office, Students Promoting Environmental Awareness and Responsibility (SPEAR), Vanderbilt Student Government and university architects.
"One of the most sustainable aspects of the renovation was the restoration of the building to its original grandeur while meeting the needs of today's students," said Keith Loiseau, university architect.More than 30,000 square feet were renovated on four floors of the 70-year-old library building. Goals included making the space more attractive and inviting to library users while addressing the needs of students in the 21st century. The improvements included bright and spacious study areas, refurbished grand reading rooms, new classrooms, a café, galleries with interactive exhibits and a large multi-purpose space suited for community events. The $6 million renovation was designed by Nashville architects Gilbert McLaughlin Casella.
LEED credits were given for installation of more efficient lighting. (Robyn Harris/Vanderbilt University)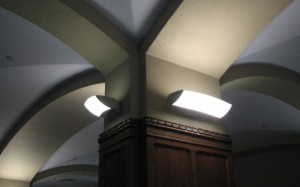 The LEED Green Building Rating System is the nationally recognized benchmark for the design, construction and operation of high-performance green buildings. LEED certification signifies that a building is environmentally responsible and a healthy place to live and work.
As part of its LEED-Gold certification, the renovation achieved credits for:
installation of 30 percent more efficient lights
installation of an Encelium lighting control system
enhanced use of natural lighting and daylight harvesting
recycling of 75 to 80 percent of demolition waste
placement of recycling containers in 25 locations throughout the building
installation of dual flush/low flow toilets and low flow faucet fixtures
installation of high efficiency variable flow refrigerant HVAC mechanical system
recycled content in 10 percent of the new furniture and furnishings
Credits were also given for the Central Library's "community connectivity" as the building is located within one-half mile of a residential area and 10 basic services. In addition, there are two bus routes within one-quarter mile of the building.
Central Library tours and "green" refreshments will be available at the celebration, which is free and open to the public. For more information, contact Celia Walker at 615-343-4701.
Contact: Ann Marie Deer Owens, (615) 322-NEWS