Buy holiday gifts from local artists at Sarratt Holiday Arts Festival
by Vanderbilt News and Communications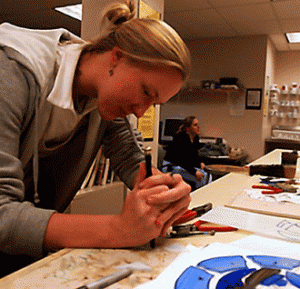 The 21st Annual Sarratt Holiday Arts Festival will open daily from 11 a.m. to 7 p.m. Dec. 1-10 and from 11 a.m. to 5 p.m. on Sunday, Dec. 11, at Sarratt Gallery.
The festival will feature handmade items for purchase as well as festive daily events. It benefits the Vanderbilt studio art education program and a number of local and regional artists.
"Like" Sarratt Art Studios on Facebook and receive information on the participating artists and announcements about special treats available at the gallery throughout the week.
In honor of its 21st birthday, Sarratt Art Studios announces the top five reasons to celebrate the 21st Annual Sarratt Holiday Arts Festival:
5. Join the movement. Buy handmade-in-America items. Buy local (some of it so local, it's made in-house at the Sarratt Student Center).
4. Twenty-one professional studio artists are selling unique and affordable items.
3. Your purchases help support art education for students ages 5-105.
2. Sarratt Art Studios has been featured on TV – last year Talk of the Town; this year Tennessee Crossroads.
1. It's a 21st birthday celebration. That means there's cake!
Contact: David Heustess, (615) 343-0491