Vanderbilt improves grade on College Sustainability Report Card 2011
[Originally published in MyVU by VU News and Public Affairs]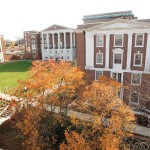 Vanderbilt University's results on the 2011 College Sustainability Report Card improved in five of the nine sustainability categories and stayed consistent in the other four categories.
The university received an overall grade of "B," an improvement from the C+ in the 2010 Report Card. The nine sustainability categories and Vanderbilt's results are:
A: Green Building (B in 2010)
A: Student Involvement (same in 2010)
A: Transportation (B in 2010)
A: Investment Priorities (same in 2010)
B: Administration (same in 2010)
B: Climate Change & Energy (C in 2010)
B : Food & Recycling (same in 2010)
C: Endowment Transparency (F in 2010)
D: Shareholder Engagement (F in 2010)
"Vanderbilt University has been committed to incorporating LEED green building concepts in new building and renovation projects," said Andrea George, director of the Sustainability and Environmental Management Office (SEMO) at Vanderbilt. "We have 11 LEED-certified buildings on campus, one of the largest grouping in the Southeast, so we're very pleased to see that category improve. Additionally, our campus Plant Operations and medical center Plant Services groups have worked extremely hard over the past year to improve our buildings' energy and water efficiency, which helped improve both our Climate Change and Energy and Green Building scores."
LEED certification provides independent, third-party verification that a building project meets the highest green building and performance measures.
The Transportation category also improved from a B to an A in this year's Report Card, due largely to the increased use of Vanderbilt's commuter options by students and employees. Those options include free rides on city buses to and from work and school, discounts for the commuter train, a matching program for carpooling and several vanpools.
Perhaps the most significant change this year was in Endowment Transparency.
"There are several endowment and investment-related categories that are part of this report card, which has been a challenge previously," explained George. "Endowment information at public schools is generally public information. As a private school, Vanderbilt does not have to, and has chosen not to, make that sensitive information public. However, our endowment managers were as cooperative and transparent as they could be while still protecting Vanderbilt's competitive investment advantage."
Now in its fifth year, the College Sustainability Report Card covers the colleges and universities with the 300 largest endowments in the United States and Canada, as well as 22 additional schools that applied for inclusion.
The College Sustainability Report Card is designed to identify colleges and universities that are leading by example in their commitment to sustainability. The Report Card is the only comparative evaluation of campus and endowment sustainability activities at colleges and universities in the United States and in Canada.
The College Sustainability Report Card is an initiative of the Sustainable Endowments Institute, a nonprofit organization engaged in research and education to advance sustainability in campus operations and endowment practices.
SustainVU is an umbrella identity managed by SEMO for the wide variety of sustainability initiatives underway by students, staff and faculty groups.
SEMO is a joint effort between Plant Operations and Vanderbilt Environmental Health and Safety, whose mission is to initiate, promote, coordinate, evaluate and encourage environmental management and sustainability initiatives that improve Vanderbilt's impact on the community and environment.
For more information on Vanderbilt's sustainability programs, please visit www.vanderbilt.edu/sustainvu.
Contact: SustainVU