Welcome! Sarratt Art Studios has been A part of the Vanderbilt experience ANd Community since the mid 1970s. Sarratt Art Studios offers a variety of noncredit art classes that are taught by experienced artists from the nashville area.
Sarratt Art Studios is open to the Vanderbilt University Community – students of all levels, faculty and staff. At this time we are not open to the nashville community or the vanderbilt medical center.
Non-credit studio art classes meet once a week for 2 hours over the course of ten weeks each semester. on our schedule We also offer 4 week classes that meet once a week. in the VU Marketplace you will also find "Creation Stations" that meet once for two hours to explore as specialty topic like paint your own pottery.
 Fall classes begin the week after Labor Day; Spring classes begin the week after MLK DAY and Summer classes usually begin the first week of June.
 Checkout our Schedule Page for updated information prior to each semester!
Annual Poster Sale – Saturday August 19 from Noon to 6:00 and Sunday August 20 – Friday August 25 from 10:00am to 6:00pm in the Sarratt Gallery!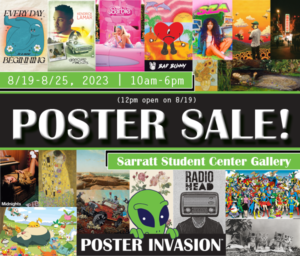 AS OF 12/01/21 SARRATT YOUTH ART INSTITUTE WILL NOT BE REOPENING. WE THANK ALL THOSE THAT HAVE BEEN A PART OF OUR SUMMER Program FOR SO MANY YEARS AND HOPE EVERYONE IS SAFE AND HEALTHY DURING THESE TIMES.