Vaughn House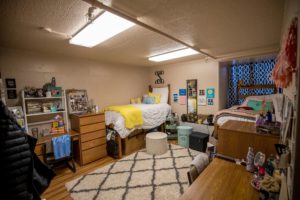 Located near central campus, Vaughn offers easy access to sporting events and the Recreation Center, as well as to dining and classroom facilities. It is one of four connecting residence halls that make up Branscomb Quadrangle, built in 1962.
Vaughn currently houses nearly 100 upperclass students, along with the Office of Housing and Residential Education, which is located on the first floor. The second and third floors of Vaughn each house up to 49 residents and one resident adviser in 26 traditional double rooms which are connected in pairs by half baths. Corridors are carpeted and all rooms have hard surface flooring. The typical room measures 10'6″ x 15'6″.
Branscomb Quadrangle is named for Chancellor Harvie Branscomb and his wife, Margaret. The name of each residence hall in Branscomb memorializes one of the outstanding women in Vanderbilt history.
Vaughn House is named for Stella Scott Vaughn, who served as Vanderbilt's first Director of Physical Education following her graduation from the University.
Photos & Room Tour
---
Amenities include:

Commodore Card access to building
24 hour Information Desk
Central air-conditioning
Xfinity On-Campus IPTV Service
Wireless Campus Network
Laundry facilities (machines free for residents)
Music Room
Seminar Room
Formal Lounge
Varsity Market with grocery and convenience items
Common kitchen facility with oven, stove, microwave, and refrigerator
Vending Machines
Custodial service in common area baths and corridors

Furnishings include:

2 Desks
2 Desk chairs
1 Built-in dresser
Miniblinds
---