RECENT MILESTONES
April 2019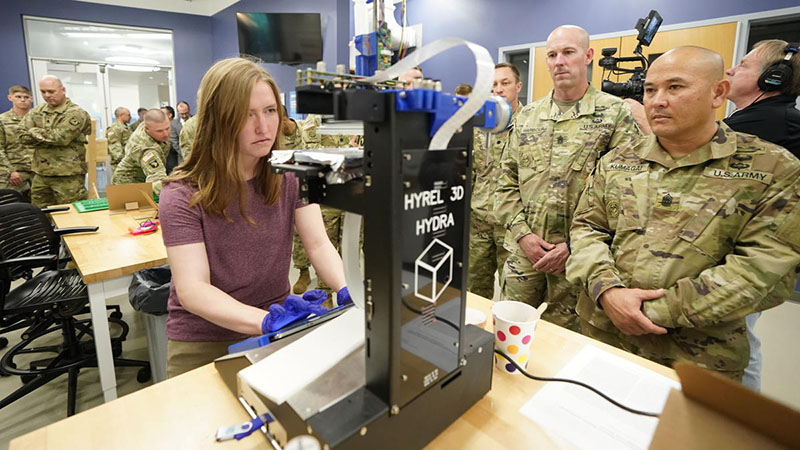 Vanderbilt is the first university to sign an Educational Partnership Agreement with the Army Futures Command for soldier-inspired innovation.
October 2020
Dozens of Vanderbilt faculty rank in the top 2 percent of Stanford University's  systematic study of the most influential scientists by field, including cyber security and artificial intelligence researchers Janos Sztipanovits, Xenofon Koutsoukos, Gabor Karsai, Douglas Schmidt and Doug Fisher.
May 2021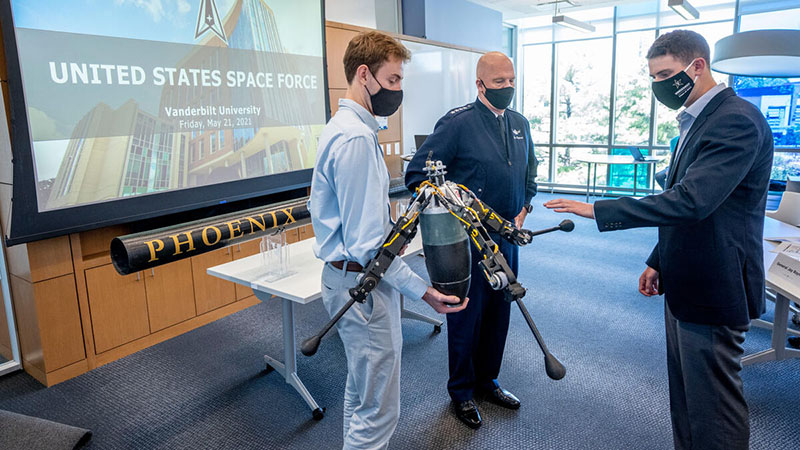 United States Space Force Chief of Space Operations Gen. John W. "Jay" Raymond visits Vanderbilt to learn about the university's pioneering aerospace engineering projects at VU research institutes.
August 2021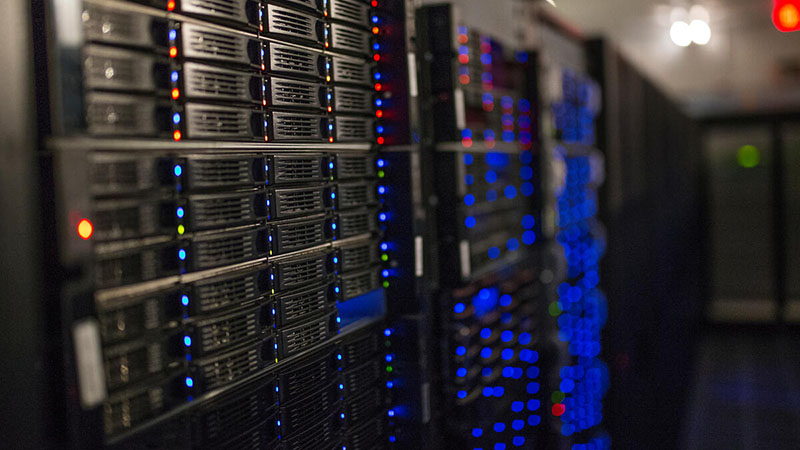 The School of Engineering creates a new Department of Computer Science, housed on Nashville's Music Row adjacent to interdisciplinary partners, including Vanderbilt's ACCRE supercomputing facility, the Institute for Software Integrated Systems and the Institute for Space and Defense Electronics.
VANDERBILT LABS AND INSTITUTES
Through these top flight research labs and institutes, Vanderbilt is trailblazing pathways to a more secure future:
Vanderbilt Institute for Software Integrated Systems

The Institute is intentionally designed to address defense needs and translate high-impact solutions in collaboration with national security and armed forces end-users. Members of the Institute's team are organizationally engaged to make key scientific and thought leadership contributions to national security.
The Institute is a key national player for software-integrated systems sponsored by DARPA, Air Force, Army, Navy, NSF, NSA, DOE, Department of Education and NASA.
Vanderbilt Institute for Space and Defense Electronics

The Institute was recently selected as Air Force Center for Excellence and major contributor to the radiation hardening system for the Navy Trident D5 Life Extension Program.
It is the only academic program in the U.S. directly supporting DoD strategic applications for radiation effects and one of very few programs involved in microelectronics research for space applications.
Vanderbilt Expertise in Emerging Biochemical Threats and Soldier-Inspired Rapid Innovation Technologies
Vanderbilt faculty extensively specialize in biochemical threat detection, pandemic response and enhancing human performance in partnership with industry leaders and DoD.
Vanderbilt Leaders in Human Terrain, Alliance and Economic Politics, and Conflicts
Vanderbilt faculty have expertise in public policy, global politics and the impacts of conflicts on the economy.
FACULTY EXPERTISE
Cybersecurity and Cyber-Physical Systems

Xenofon Koutsoukos

Gabor Karsai

Won $7.4M DARPA funding for Assurance-based Learning-enabled Cyber-Physical Systems in collaboration with Northrop Grumman. The team is engineering an assured autonomous vehicle control system.
Vanderbilt-lead for a $4.8M project under the U.S. Department of Energy's high-impact, high-risk Advanced Research Projects Agency-Energy.
Leads a $2.5M DoD Environmental Security Technology Certification Program project to develop novel software tools for the secure and create resilient control of microgrids that power installations at military bases nationwide and overseas.

Sandeep Neema

Jonathan Sprinkle

He is the co-principal investigator on several cyber-physical systems research projects funded by DoE, NSF, NSA, and DARPA and specializes in model-based approaches.
Former Program Director in Cyber-Physical Systems and Smart and Connected Communities at the National Science Foundation in the CISE Directorate.

Artificial Intelligence

Gautam Biswas

Abhishek Dubey

Developing the Smart Transit project, efficient transit operation algorithms for smart and connected communities in collaboration with Nashville WeGo and Chattanooga Area Regional Transportation Authority.
Enhancing emergency response management through the StatResp project by using statistical modeling for dynamic environments and informing first-responders on where and when incidents are expected to occur.

Daniel Work

The I-24 Mobility Technology Interstate Observation Network (MOTION) project is an integrated corridor management strategy and unique four-mile real-world testbed section designed to mitigate traffic congestion
The I-24 Smart Corridor project utilizes an AI-based decision support system to manage traffic by coordinating traffic lights and arterial signals leading up to a highway entry point and set dynamic speed limits that facilitate less overall traffic.

Peter Volgyesi

Developing AI-assisted design automation tools for unmanned underwater and aerial vehicles with $8.7M in DARPA funding.
Highly integrated engineered systems that leverage sensors and AI algorithms to develop more capable and secure software radios for communicating on the battlefield and for Army/5th Group in highly contested environments.
Led the Vanderbilt team winning $1M in DARPA Spectrum Challenge.

Jules White

Douglas Fisher

Emerging Biochemical Threats and Soldier-Inspired Rapid Innovation Technologies

Janos Sztipanovits

Leads the $6M NSF convergence accelerator research project, "Computing the Biome" to develop a global surveillance system for biological threats and predict disease outbreaks in real-time
Leads a $4M, 5-year effort funded by the NSF to create an adaptive Internet of Things to enable IoT devices to operate within socially acceptable frameworks in different countries.
Served as member of the U.S. Air Force Scientific Advisory Board (2006-2010) and as program manager and acting deputy director of DARPA ITO (1999-2002)

Douglas Schmidt

James Crowe

Specializes in next generation antibody science to transform infectious disease prevention.
As the chief scientist of the Advanced Human Epidemic Antibody Defenses he has developed a long-acting antibody combination for COVID-19 infections.
Elected member of the Institute of Medicine (IOM) of The National Academies.

John McLean

Doug Adams

Specializes in development of intelligent systems using sensors, data analysis, and controls for support of DoD applications and leads the Army Futures Command funded Pathfinder efforts at Vanderbilt.
Military applications of his work including next generation precision attack missiles, vehicle armor and composite rotorcraft.

Katherine Blue Carroll

Worked as a social scientist on a Human Terrain Team in Baghdad, Iraq to provide expert social and political advice to brigade commanders and soldiers on the ground in war zones
Director of the public policy program at Vanderbilt.

Michael Bess

Peter Schram

Political science expert researching why states opt to resort to gray zone measures to achieve military objectives rather than conventional war fighting options for coercing opponents.

Brett Benson

Expert in alliance politics, military cooperation and wars over commerce and resources alongside Brad Smith.
Working on a project that analyzes types of economic dependencies that could result in the eruption of war such as resource wars, wars over sizable markets, and wars to try to halt economic decline. He is also involved in a research project related to China-Taiwan relations and security.

Andrew Coe