The Best Post-doctoral Fellow Presentation was awarded to: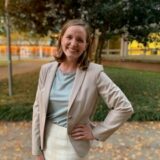 Katie M Young, PhD
(Reinhart-King Lab)
Postdoctoral Researcher, Biomedical Engineering.
Genome-scale CRISPR Knockout System to Explore Geno mechanical Relationships in Metastatic Cells.
The Best Graduate Student Presentation was awarded to: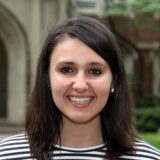 Amanda B. Hesterberg
IGP Graduate Student
(Hurley Lab)
Asporin (ASPN)+ Cancer-Associated Fibroblasts Activate HER2/HER3 Signaling and Promote Prostate Cancer Progression.
The Best Graduate Student Poster Presentations were awarded to: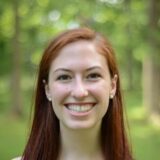 Emilie Fisher, MSTP
(J Rathmell Lab)
Improving anti-tumor CD8+ T cell function through manipulating glutamine metabolism.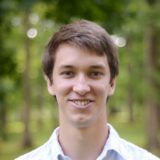 Matthew Loberg, MSTP
(Weiss Lab)
Unique Stromal Infiltrate Defines Aggressive Thyroid Cancers.

Honorable mention for the Best Graduate Students Poster Presentations were awarded to: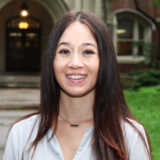 Brandie Taylor, MS
(Balko Lab)
Overcoming MHC-I Heterogeneity in Immunotherapy Resistant Breast Cancers via NK Cell Activation.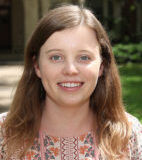 Kara McNamara, IGP Graduate student
(Wilson Lab)
Polyamine Dysregulation during Helicobacter pylori Infection and its Impact on Gastric Carcinogenesis.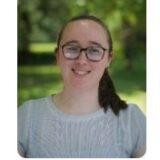 Sarah Reed, MSTP
(Park Lab)
Investigating the Impact of Clonal Hematopoiesis on Solid Malignancies.
---
Program in Cancer Biology Faculty and Trainee News and Research: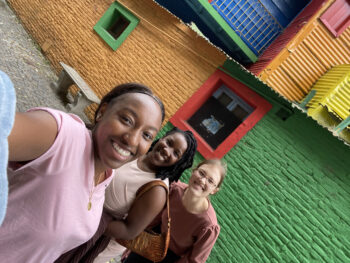 Metastasis Research Society (MRS), the 19th Biennial Meeting (2022), was held in Buenos Aires, Argentina. The MRS is dedicated to promoting the furtherance of research into all aspects of metastasis and the exchange of metastasis-related information amongst all key stakeholders in metastasis research and treatment, including scientists, clinicians, and patients.
Our PhD trainees presented their research internationally in Buenos Aires, Argentina!!  "The Influence of Sex on the Immune Microenvironment of Female Breast Cancer", research was presented by Ebony Hargrove-Wiley and  "Investigating the Role of Type II IL4 receptor in Breast Cancer Brain Metastasis", was presented by Wendy Bindeman.
Pictured above are Ebony Hargrove-Wiley and Wendy Bindeman, IGP Graduate students from the Fingleton Lab and Deronisha Arceneaux from the Lau Lab, they visited a neighborhood in Buenos Aires and enjoyed the local cuisine for lunch.
---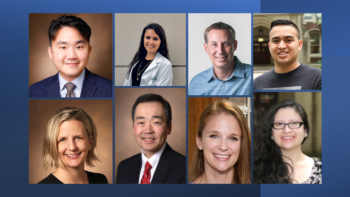 Hong Yuen Wong PhD,
Amanda B Hesterberg IGP Graduate student, Jeffrey C Rathmell PhD, Adam X Miranda IGP Graduate student, Paula J Hurley PhD, Ben H Park MD, PhD, Sarah Croessmann PhD, Brenda L Rios IGP Graduate student.
Single-cell analysis of cribriform prostate cancer reveals cell-intrinsic and tumor microenvironmental pathways of aggressive disease. The study presents a compendium of information on cancer and TME cells in prostate ICC/IDC. Our findings support that ICC/IDC has an aggressive phenotype by upregulating the TNFα pathway via the NFκB pathway leading to the expression of JAG1, which likely induces neovasculature through NOTCH signaling. In addition, we show that the ICC/IDC TME is immunosuppressed, resulting in less dysfunctional T cells and increased M2 C1QB+TREM2+APOE+ macrophages.
---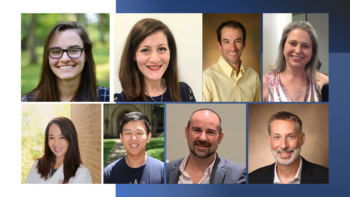 Margaret Axelrod PhD,  Ann Hanna PhD,  P. Brent Ferrell PhD,  Susan Opalenik PhD, Brandie C Taylor MS BS,  Xiaopeng Sun BS,  Jeffrey C. Rathmell PhD,  Justin M Balko PharmD, PhD
T cells specific for α-myosin drive immunotherapy-related myocarditis
The researchers discovered that T-cells recognizing the cardiac antigen α-myosin are the mechanism for this complication, setting the framework to identify biomarkers so at-risk patients can be recognized and medical strategies developed for them to tolerate the immunotherapy. Their findings were reported on November 16 in Nature.
---

While cancer of the appendix is rare, for a small percentage of patients, the disease may be linked to a particular genetic variant, a new study from the lab of Andreana Holowatyj, PhD, MSCI, suggests. Researchers built on earlier research with this study, finding that 1 in 10 people with cancer of the appendix carries a genetic variant associated with cancer predisposition. "Based on these data, we can recommend genetic counseling and multi-gene panel testing of cancer susceptibility genes for all appendix cancer patients, regardless of age or family history of cancer," said researcher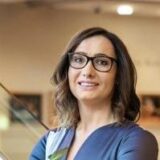 Andreana Holowatyj. She is an Assistant Professor of Medicine and Cancer Biology at Vanderbilt University Medical Center. The findings were published on November 11 in the journal JAMA Oncology and presented simultaneously at the 2022 Collaborative Group of the Americas Inherited Gastrointestinal Cancer (CGA-IGC) annual meeting in Nashville.
---
 Julie Rhoades, PhD is a newly elected member of the Board of Directors for the Cancer Biology Training Consortium (CABTRAC)!

---
In Memory of: The MOURNERS KADDISH
When I die, Give what's left of me away to children and old ones.
And when you need me, put your arms around anyone and give them what you need to give me. I want to leave you with something better than words or sounds. Look for me in the people I've known or loved,
and if you cannot give me away, at least let me live on in your eyes and not in your mind. You can love me most by letting hands touch hands,
bodies touch bodies, and letting go of children that need to be free. Love doesn't die; people do. So, when all that's left of me is love, give me away.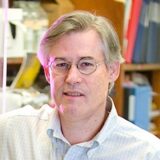 Albert "Al" Reynolds, PhD, a celebrated and respected Professor Emeritus in the Department of Pharmacology, passed away in early November. As we continue to try to process the terrific loss of our colleague, friend, and/or mentor, we are interested in establishing a Fund in Al's honor that would be used to benefit trainees in Cancer Biology. Training and inspiring students and postdoctoral fellows was a driving force for Al, so this seems to be a fitting way to honor him.  In talking with the Vanderbilt Development office, we have established a way for you to give to this fund online by making a contribution to the Department of Pharmacology through a subaccount established in Al's memory.  You may access this account by clicking on vu.edu/pharmacologyfund.  If this is something on your heart that you would like to support, please respond by indicating the amount you can pledge so that we can determine the feasibility of establishing the Al Reynolds Foundation Fund for Cancer Biology trainees. Thank you for your consideration.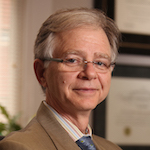 R. Daniel Beauchamp, MD, the John Clinton Foshee Distinguished Professor of Surgery and Cell and Developmental Biology at Vanderbilt University School of Medicine, former Chair of the Section of Surgical Sciences (2001-18), and former Surgeon-in-Chief at Vanderbilt University Medical Center (2001-18), died on November 27, 2022, at Alive Hospice. His significant roles in the Vanderbilt-Ingram Cancer Center included Deputy Director (2011-19) and Co-Director of the GI oncology program (2014-22). Read Dr. Beauchamp's professional biography and details of his almost 30-year career at Vanderbilt detailing the tremendous impact he had on the lives of his patients, colleagues, and community members.
---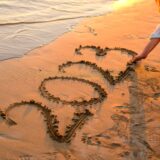 "You give but little when you give of your possessions. It is when you give of yourself that you truly give."– Kahlil Gibran
Have you received an award, a paper published or any other good news you would like to celebrate with our community? If so, please e-mail: kerry.w.vazquez@vanderbilt.edu.
Newsletter header photo credit to Dr. Anna Vilgelm, "DNA Comets."  Articles and Pictures credit to VU and VUMC. Dan Beauchamp credit Anne Rayner; holiday pictures credit to Unsplash. Dr. Schwartz photo by Donn Jones/VUMC. Andreana Holowatyj article, By Cara Murez Health Day Reporter from US News and world report.