The Editor's Note
Hello,
This Monday is sharing it's spotlight with International Women's Day (IWD). The 2021 IWD theme is #ChoosetoChallenge, which is aimed at accelerating gender parity and calling out gender bias and inequality. It's also a time to acknowledge and celebrate the many contributions and achievements of women across the globe.
To learn more about this year's #ChoosetoChallenge theme, please visit https://www.internationalwomensday.com/Theme. Don't forget to check out the list of events taking place this month provided by the Vanderbilt community's own Margaret Cuninggim Women's Center.
---
Monday Inspiration
"Women will only have true equality when men share with them the responsibility of bringing up the next generation." —  Ruth Bader Ginsberg
---
Employee Learning & Engagement

And, so are you!
#IamRemarkable is a Google initiative empowering women and underrepresented groups to speak openly about their accomplishments in the workplace and beyond, thereby breaking modesty norms and glass ceilings. Learn more at https://iamremarkable.withgoogle.com/.
In this interactive session on Thursday, March 11th from 11:00am-12:30am, you will participate in group discussions and exercises to develop the confidence and skills to promote yourself effectively.
During the 90 min #IamRemarkable workshop we will:
Share data and research regarding self-promotion and unconscious bias
Go through the main exercise to help you articulate your achievements and practice self-promotion
Have a discussion and share take home exercises
This session will be facilitated by Krystal Clark, M.Ed. and Chance Ryon, M.Ed., who serve as Google #IamRemarkable Facilitators.
Register for the event here, or by searching for #IamRemarkable in Oracle Learning.
---
Campus Partner Opportunities
The Margaret Cuniggim Women's Center Presents Women's History Month Events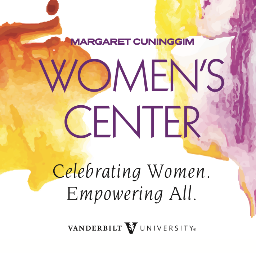 To learn more about upcoming Women's History events for 2021, please check out the calendar of events here.
NOTE: Multiple events are available to attend. RSVP for events here.
Upcoming P.R.I.D.E. Training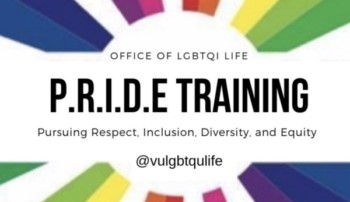 Spring 2021 Schedule
Sign up here! The next training dates for the semester:
Upcoming 'Disrupting Everyday Bias' Sessions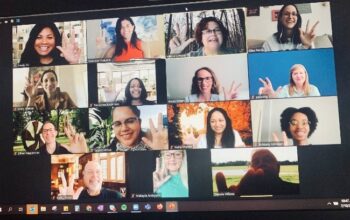 Register for upcoming sessions via Oracle Learning here.
Mar 22nd: 9am – 11am CST
May 27th: 10am – 12pm CST
Women in Data Science Conference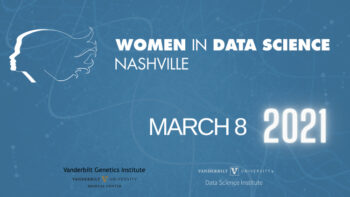 Mar 8th: 10am – 5pm CST
The conference is free and open to the public. View a full schedule of events and register here.
---
Virtual & Community Events
Upcoming Symposium on Racial Justice, Freedom and Activism in Nashville and Beyond: Then and Now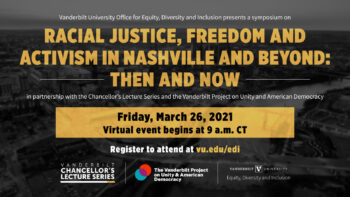 Learn more and register for the virtual event here.
Join the YWCA for the 21-Day Racial Equity & Social Justice Challenge!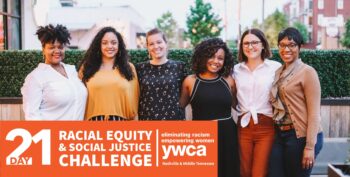 The 21 Day Challenge is designed to create dedicated time and space to build more effective social justice habits, particularly those dealing with issues of race, power, privilege, and leadership. Learn more and register for the challenge here.
---
Additional Learning Resources
FEATURED PODCAST
The Accidental Creative | A World Without Email (with Cal Newport)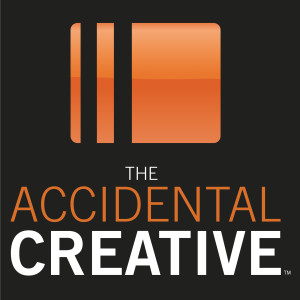 Enjoy in less than an hour!
Imagine that– life without email. Get into this episode of The Accidental Creative with host, Cal Newport, for guidance on how to improve your workflow and remain a creative workplace contributor despite the demands of an inbox that competes for your immediate attention.
SUGGESTED READING
The Upside of Being Interrupted at Work
(James Adonis, The Sydney Morning Herald)
4 Phases of Women's Careers– Coping with the Crisis and the 30s
(Avivah Wittenburg-Cox, Forbes Contributor)
4 Phases of Women's Careers, Part II: The Potential of the 40s, 50s and Beyond
(Avivah Wittenburg-Cox, Forbes Contributor)
RECOMMENDED LEARNING
Marc Lesser, ZBA Associates and Mindful.org Present | The Mindful ChangeMakers Summit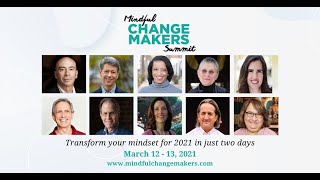 Mark your calendars for this upcoming and free event, March 12th – 13th. Learn more and register for this virtual gathering here.
---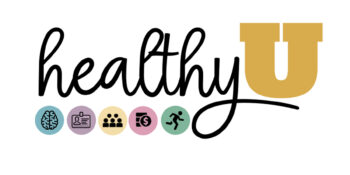 If you aren't already subscribed to the HealthyU quarterly newsletter, you don't want to miss out! For a healthy dose of information, resources, inspiration, or even delicious recipes, opt-in to the distribution list at wellbeing@vanderbilt.edu.
View the most recent edition here!
---
500+ Subscribers and Climbing… Help Us Reach 600 and Win a Giveaway!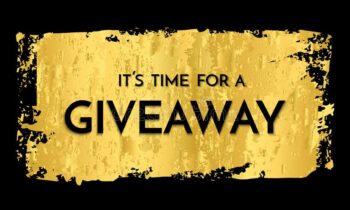 We previously celebrated reaching 500 subscribers for Rooted in Learning, thanks to your spreading the word. We are now getting closer to 600 subscribers and we need you to help us reach this goal. To celebrate this next milestone, we will have a giveaway prize for a random subscriber. Will it be you?! If you know someone who is new to the Vanderbilt community or who is not a current subscriber, encourage them to subscribe! They can email us at ele@vanderbilt.edu and type "Subscribe" in the subject line. Stay tuned for the winner to be announced in the coming weeks…
Communicate & Share Your Ideas
Got content suggestions? We'd love to hear from you. Email us your questions, thoughts, suggestions or requests for the newsletter or workshops and trainings at ele@vanderbilt.edu. Continue to encourage your teams and colleagues to opt-in to Rooted in Learning. Also, please note that a Vanderbilt email address is required to subscribe.
Happy Learning!
The Employee Learning & Engagement Team