The Editor's Note
Hello,
This week we will be ending a very eventful month of March. We've had our highs and lows, but through it all I hope you and your loved ones have been able to maintain safety, good health, and peace. A standout this month for me has been celebrating International Women's History Month. For the first time I truly took a moment to reflect on the women in my life who have made a difference. From remembering moments of triumph over challenges to reflecting on the innovative spirit many women embody, it's all amazing and encouraging and life changing to witness. It all inspires me to be better and do better.
Undoubtedly, life will continue to present a myriad of reasons and opportunities to celebrate women daily. In the meantime, please be sure to view this week's list of events hosted by the Women's Center for the Vanderbilt community. Additionally, see below for an exciting list of events they have coming soon.
---
Monday Inspiration
"Until a woman is recognized as more than just a mother, daughter, and a sister, and is valued for being an individual, I will continue working for our rights." —  Rukhshanda Naz
---
Employee Learning & Engagement Events
CRAFTING YOUR AUTHENTIC LEADERSHIP PRESENCE WORKSHOP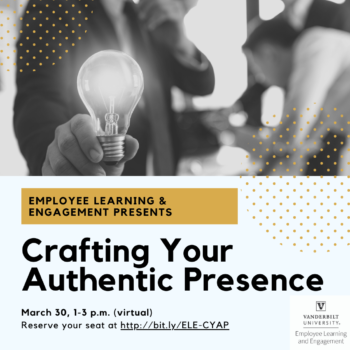 Join us for this workshop on Tuesday, March 30th from 1pm – 3pm CST.
UNLOCK YOUR TOP 5 TALENT THEMES WITH CliftonStrengths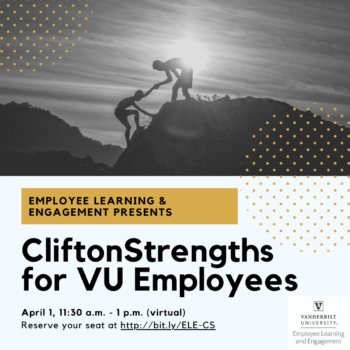 In this highly engaging session on Thursday, April 1st from 11:30am – 1pm CST, we will provide you with an opportunity to complete the CliftonStrengths assessment to unlock your Top 5 Talent Themes, and explore how they impact your work.
****To register and learn more about upcoming workshops, please visit our website here. You can also view what's on the horizon and register for future events.****
---
Campus Partner Opportunities
The Margaret Cuniggim Women's Center Upcoming Events
Women and Money Management
Speakers: Brynne Conroy and Joyce Zahariadis
Monday April 5, 4:00 PM CT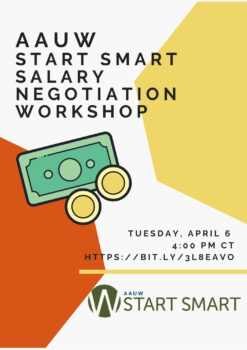 AAUW Start Smart Salary Negotiation Workshop
Tuesday, April 6 4:00 PM CT
Please direct any questions regarding upcoming events to Brianna Nesbitt at brianna.nesbitt@vanderbilt.edu. To learn more about upcoming Women's History events for 2021, please check out the calendar of events here.
NOTE: Multiple events are available to attend. RSVP for events here.
Upcoming P.R.I.D.E. Training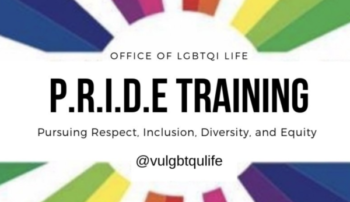 Spring 2021 Schedule
Sign up here! The next training dates for the semester:
Upcoming 'Disrupting Everyday Bias' Sessions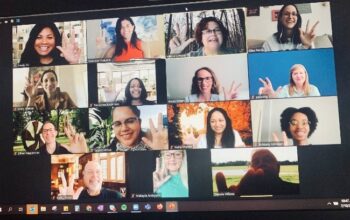 Register for upcoming sessions via Oracle Learning here.
May 27th: 10am – 12pm CST
---
Did You Know…?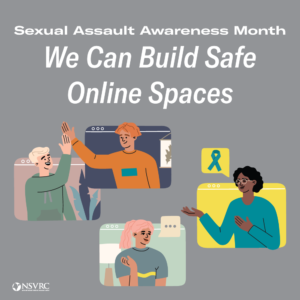 April is Sexual Assault Awareness Month (SAAM). The SAAM theme for 2021 is "Creating Safe Online Spaces" and Project Safe will be offering educational programs and resources throughout the month that include an 8-session Empowerment Self-Defense course, campus sexual assault resources and so much more. Please visit their website to learn more about upcoming events and register.
---
Virtual & Community Events
Vanderbilt Owen Graduate School of Management Presents: How to Speak the Language of Business

Learn more about this live online program here. Webinar registration can be completed here.
The YWCA for the 21-Day Racial Equity & Social Justice Challenge Continues!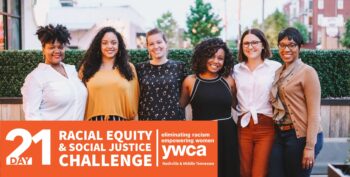 Start the 21-day challenge when you're ready. Learn more and register for the challenge here.
---
Additional Learning Resources
FEATURED PODCAST
Enjoy in less than 30 minutes!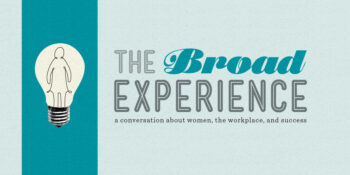 .
As we bring an end to the international celebration of women for the month of March, you are invited to listen to this brief journey through the history of women as public speakers. You just might be surprised (or not) at the experiences women speakers have had!
SUGGESTED READING
5 Ways to Spark (or Destroy) Your Employees' Motivation
(Chris Weller, Your Brain at Work Blog)
4 Reasons Writing Things Down on Paper Still Reigns Supreme
(Christopher Bergland, Psychology Today)
In the Wake of Anti-Asian Violence, Employers Demand Action
(Andrew Deichler, Society for Human Resource Management)
RECOMMENDED LEARNING
We Present You – Skillsoft Books and Videos!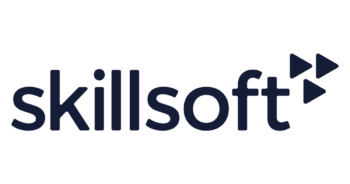 Are you ready to deep dive into sea of learning opportunity? Skillsoft Books and Videos offers you access to a library of more than 40,000 audiobooks, videos, live events, and related content. You can locate this wealthy resource under Learning Item Number OLC930045 in Oracle or search for Skillsoft Books and Videos to enroll.
NOTE: You must use Mozilla Firefox to access the library. 
For a healthy dose of information, resources, inspiration, or even delicious recipes, opt-in to the HealthyU distribution list at wellbeing@vanderbilt.edu.
View the most recent edition here!
---
UPDATE: We've Reached 600 Subscribers!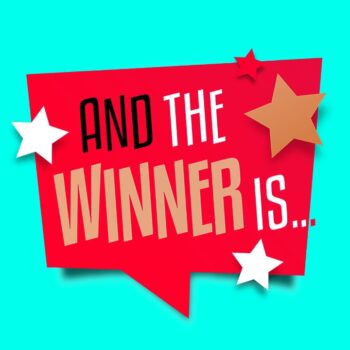 JENNIFER M. ELLISON!
Congratulations, Jennifer! We will be in touch to get your information so your gift can be mailed in the coming days.
To each of our subscribers, THANK YOU for all your efforts to spread the word about Rooted in Learning. You helped us reach over 600 subscribers, which enables us to continue our mission of providing access to professional development resources to faculty and staff. Continue spreading the word in hopes that we can reach everyone across the Vanderbilt University community!
---
Communicate & Share Your Ideas
Got content suggestions? We'd love to hear from you. Email us your questions, thoughts, suggestions or requests for the newsletter or workshops and trainings at ele@vanderbilt.edu. Continue to encourage your teams and colleagues to opt-in to Rooted in Learning. Also, please note that a Vanderbilt email address is required to subscribe.
Happy Learning!
The Employee Learning & Engagement Team