Coming in April: 
The April edition of the newsletter will provide more information on construction activities around upcoming key events (The Party, Commencement), as well as activities that will take place over the summer.
DESIGN UPDATES
The FutureVU vision, in accordance with recommendations from the Advisory Accessibility Task Force (AATF), believes that diversity, inclusion and accessibility are a priority in campus planning.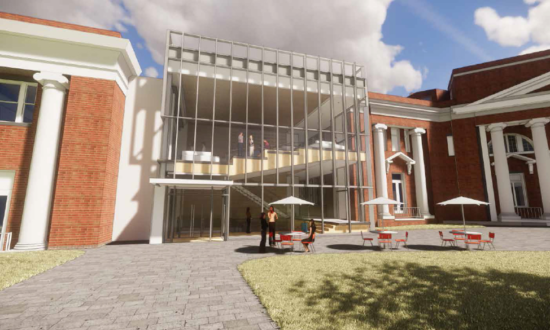 The Home Economics and Mayborn buildings were the first two buildings to open in 1916 on the new campus of George Peabody College for Teachers. While they boasted marble floors and impressive columns, they were not very accessible. As the design team considered renovations to Mayborn and Home Economics, the following elements were incorporated into the future design to ensure that the renovated buildings would align with the FutureVU principles that emphasize diversity, inclusion and accessibility:
A multi-stop elevator in the new connector building, which provides accessibility to all floors in both buildings. Everyone will use the same route to enter the building and access all floors by the same means.
A thorough examination of items such as accessible restrooms on all floors of each building, door hardware, restroom fixture locations, signage, water coolers, and exterior access will ensure that any person with a disability is able to take full advantage of all amenities of the building.
As exterior grading is reworked, slopes will be eased to make the exterior access around the entire site more accessible for everyone.
As the design team considers future phases of work at Peabody, a variety of stakeholders will be engaged and additional considerations will be made in alignment with the efforts of the AATF on accessibility at Peabody.