Chancellor's Lecture Series

The Vanderbilt Chancellor's Lecture Series strives to connect the university and the Nashville community with leaders and visionaries who are shaping our world. For more information, email cls@vanderbilt.edu.
Join our mailing list to get more information on attending our events.
View previous lecture speakers »
SIGNATURE EVENTS
---
Anderson Cooper
Sunday, March 15, 3:30 p.m. (Doors open at 2:30 p.m.)
Langford Auditorium
Keynote and Q&A
Cooper is the anchor of CNN's Anderson Cooper 360°, a global newscast that goes beyond the headlines with in-depth reporting and investigations. Cooper also hosts Anderson Cooper Full Circle, a streaming show that airs on CNN's digital properties each weekday and is also available on demand.
Since the start of his career in 1992, Cooper has worked in more than 40 countries and has covered nearly all major news events around the world, often reporting from the scene. Cooper also has played a pivotal role in CNN's political and election coverage, anchoring from conventions and moderating several presidential primary debates and town halls.
In addition to his shows on CNN, Cooper is also a regular correspondent for CBS' 60 Minutes. In 2016, The Rainbow Comes and Goes: A Mother and Son on Life, Love, and Loss—a collection of correspondence between Anderson and his mother, Gloria Vanderbilt—debuted at the top of the New York Times Best Seller list and remained on the list for three months. Cooper's first book, Dispatches from the Edge: A Memoir of Wars, Disaster, and Survival, was published in 2006 and also topped the New York Times Best Seller list and other bestseller charts. He will talk about breaking stereotypes and rising through challenges during the Chancellor's Lecture Series on March 15.
---
The information below applies to our signature Chancellor's Lecture Series events only.
All our events are free to attend but require a ticket for each event separately. The events take place at Langford Auditorium.
We have a new ticketing process and tickets will be available closer to the events. The tickets you reserve for each event guarantees your access to general admission. Seating will be on a first-come, first-served basis in the main auditorium. Guests arriving after the main auditorium is full will be seated in overflow space for a live stream of the event.
Free parking will be available in the 25th Avenue Garage for the Chancellor's Lecture Series.
CART services (live captioning) will be available for hearing-impaired audience members.
---
In partnership with the chancellor's lecture series
Joan Johnson
Thursday, March 19, 5.00 p.m. 
Alumni Hall, Room 202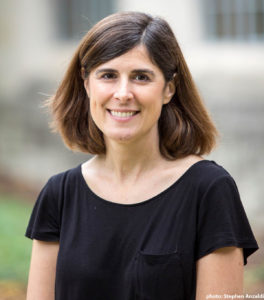 Joan Johnson is the director for faculty in the Office of the Provost at Northwestern University. Johnson received her bachelor's degree from Duke University and her doctorate in history from UCLA. She has written extensively about the history of women and gender, race, social reform, education, and philanthropy, including:  Funding Feminism: Monied Women, Philanthropy, and the Women's Movement, 1870-1967; Southern Women at the Seven Sister Colleges: Feminist Values and Social Activism, 1875-1915; and Southern Ladies, New Women: Race, Region and Clubwomen in South Carolina, 1890-1930. She is co-editor of the three-volume series, South Carolina Women: Their Lives and Times, and has published on black and white women in journals and anthologies. She taught women's history at Northeastern Illinois University for 12 years, was the co-founder and co-director of the Newberry Seminar on Women and Gender at the Newberry Library in Chicago.
The March 19 event, presented by the Margaret Cuninggim Women's Center, in partnership with the Chancellor's Lecture Series is titled, "Race, Rights and the Woman Suffrage Movement: The Stories of Alva Vanderbilt Belmont, Irene Moorman and Rose Schneiderman." It is being sponsored by the Division of Government and Community Relations.
---
Caroline Kennedy
Thursday, May 7, 11 a.m. (Doors open at 9:30 a.m.)
Memorial Gym
Keynote
Best-selling author, attorney and former U.S. Ambassador to Japan Caroline Kennedy will receive Vanderbilt University's prestigious Nichols-Chancellor's Medal in May 2020, when she speaks to the university's graduating students and their families. Kennedy's address in partnership with the Chancellor's Lecture Series will take place on Graduates Day, which is May 7, at Memorial Gym. The event, previously known as Senior Day, has been renamed Graduates Day to be more inclusive of all Vanderbilt students, including graduate, professional and undergraduate students, who will earn a degree the following day.
Kennedy, the daughter of President John F. Kennedy and First Lady Jacqueline Kennedy Onassis, has dedicated her life to public and philanthropic service. Kennedy was the first woman to serve as U.S. ambassador to Japan when she was nominated by President Barack Obama in 2013.
For more information on attending the event and other details, please visit the Commencement website.
To view more videos, click the playlist icon near the upper left of the video.
---