History: Galloway's ginkgo
Nestled in the corner of E. Bronson Ingram Residence College facing towards campus is "Galloway's Ginkgo". With a height of 18m (59ft), this tree is the largest ginkgo on campus and is named for Bishop Charles Galloway, president of the Vanderbilt Board of Trust from 1905 to 1909. The tree was nicknamed in honor of Galloway because he has been said to have brought this first ginkgo to campus from Asia. This story is told on page 15 of The Trees of Vanderbilt. One inaccuracy of the account in The Trees of Vanderbilt is that it states that "This particular tree has been the progenitor of many ginkgoes in this area." Although this tree may have provided pollen, it did not provide seeds, since it is a male.
After Galloway's death Chancellor Kirkland said that Galloway's, "education was not finished in college, as is the education of some young men; it was merely begun there. It was continued with him by constant reading and study, by travel throughout the whole civilized world, by wide contact with men of every type and every profession, and by definite participation in great enterprises of important character."
During the construction of E. Bronson Ingram Residence College builders chose to build around the tree rather than cut it down due to its historical significance and beauty. Today "Galloway's Ginkgo" sits in the corner of E.B.I. that the builders cut out for it and continues to grow and flourish.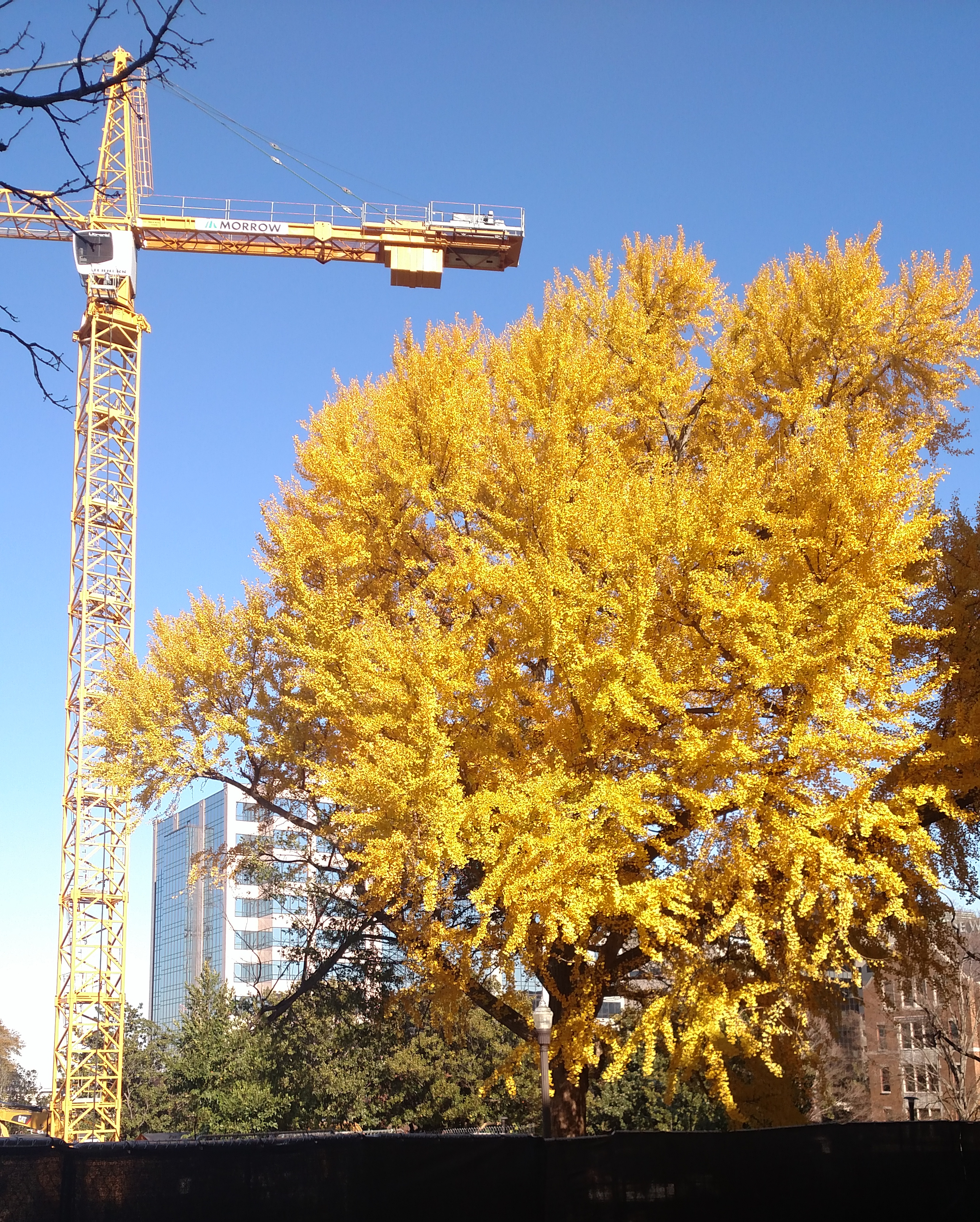 Galloway's ginkgo during the construction of E. Bronson Ingram College in 2016. Photo by Andrew Michel under a CC BY license.
For a poem inspired by this photo, see this blog post. For more on the history, science, and folklore surrounding ginkgoes, see this blog post.
Return to the historical tree tour page for Galloway's ginkgo 2-185.