Use water at 'comfortable' temperature to wash hands and fight global warming
[Originally posted by Research News at Vanderbilt]
Signs in many bathrooms across the country recommend washing hands in hot or warm water.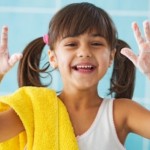 In fact, if Americans could be persuaded en masse to use a comfortable water temperature when washing their hands, it could prevent the annual greenhouse gas emissions totaling the equivalent of the United States' lead industry or the entire output of a small nation such as Barbados.
So say four Vanderbilt University researchers led by Amanda R. Carrico, research assistant professor at the Vanderbilt Institute for Energy and Environment. Assisting with the study were Micajah Spoden, research analyst at Vanderbilt; Michael Vandenbergh, director of the Climate Change Research Network at Vanderbilt and David Daniels Allen Distinguished Chair of Law; and Kenneth A. Wallston, professor of psychology at the Vanderbilt School of Nursing.
It is true that heat kills bacteria; however, the level of heat required to neutralize pathogens is beyond what is considered safe for prolonged human contact.""Although the perception that hot water is more hygienic is based in some factual evidence … there are few, if any, hygienic benefits of using warm or hot water to wash one's hands," Carrico and her colleagues write.
Read more here.