July 2023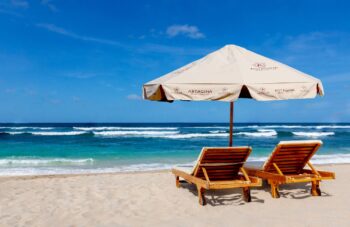 Summer has arrived along with a heat wave!  It is a time when we can get so much more done in the lab without meetings, meetings, and meetings! We can write, read, and focus on experiments.
Having completed the qualifying exam, many of our students have begun preparing for the Phase II exam.  But it is also important to take some time for relaxation, recreation, and fun so that we can recharge and be ready for the fall.  Whether you can work in a trip to the beach, the mountains, or just enjoy a Staycation—be sure to allow yourself the luxury of recharging!
Hats off to Dr. Jess Roetman, Dr. Jen Pilat, and Dr. Samantha Beik for successfully defending their dissertation research and to their mentors, Drs. Mary Philip, Chris Williams, and Vito Quaranta, respectively.
We want to extend a warm welcome to our 11 new trainees in the Program of Cancer Biology! Below are our new students, we look forward to seeing you all at the Welcome Festivities on July 12th at 4pm.  A big thank you to the CBSA for organizing the party!  Thank you Brad, Sarah, Breelyn, Kara, Brandie, Elysa, and Amanda.
Happy Summer!
Ann Richmond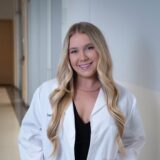 Elizabeth G Fisher, BS
(Coffey Lab)
Sarah will explore how small extracellular vesicles, nanoparticles, and their respective cargo can lead to acquired drug resistance and increase metastatic potential in recipient cells. Overall, the research focuses on studying novel molecular markers of colon cancer, determining their function, and how the trafficking of these particles can disseminate cancer characteristics. Sarah has several hobbies outside of science that allows her to be creative! She is a florist and has been able to do florals for many events around Nashville. Sarah also sings in several choirs, loves her vocal training, and takes tapestry weaving and sculpting courses. She enjoys time with her family, camping and hiking in the National Parks, and loves dancing with her friends!
Carlan Romney, MS
(Wilson Lab)
received his BS in Biology from the University of the Virgin Islands. He then pursued an MS in Biology from Fisk University in the Fisk-Vanderbilt Master's-to-PhD Bridge Program. As a graduate student in Keith Wilson's lab, he will be studying the role of spermine oxidase (SMOX) as a source of acrolein and electrophilic stress in myeloid cells and its effects on the gastric mucosal immune response and in the gastric cancer tumor microenvironment. Additionally, he will examine the role of the transcription factor NRF2, as its activation may occur via electrophilic stress and its effects on cancer cell survival. Outside the lab, he enjoys trying new restaurants, outdoor activities, cooking, and traveling.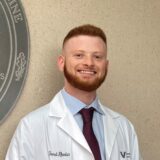 Jared D Rhodes, BS
(Goldenring Lab)
Jared's research interest is studying the role of different fibroblast subsets in promoting the transition of pre-cancerous metaplastic gastric epithelium into dysplasia. Using gastric-derived organoids, immunofluorescence, scRNA-sequencing, live cell imaging, and mouse models, he plans to uncover what secreted factors from these fibroblasts facilitate the carcinogenesis of gastric cancer. In his free time likes to work out at the gym, play volleyball, and spend time with friends.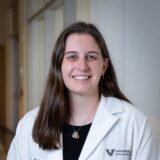 Allison S McCabe, BS
(Ethan Lee Lab)
Allison's research will characterize a new class of KRAS inhibitors and their mechanism of action in cancer. These novel inhibitors are developed to target a unique binding pocket and different oncogenic mutations on the KRAS protein than the ones approved by the FDA or in clinical trials. Allison enjoys running, rock climbing, and reading when not in the lab.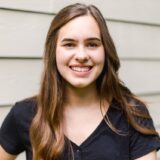 Carley M Fielder, BS
(Tae Kim Lab)
Carley will be studying the biology of immune checkpoint molecules in metastatic cancer, specifically LAIR-1 and PD-1H (VISTA). In her free time, she loves to travel and play music.

J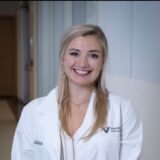 ulia Steele, BS  (Balko Lab)
Julia's research will aim to identify resistance mechanisms to HER2-positive breast cancer treatments. To do this, she will work to develop a humanized murine model of HER2-positive breast cancer, which can be utilized to screen and identify resistance-related genes upon treatment. Outside of the lab, Julia enjoys puzzling, hiking, volleyball, and trying new restaurants and coffee shops!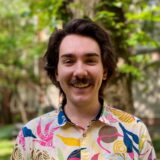 Reilly Garrett Fankhauser, MSTP
(Balko Lab)
Reilly looks forward to studying the severe autoimmune side effects associated with immune checkpoint blockade (ICB) immunotherapies for cancer. While immunotherapy has revolutionized cancer treatment over the last few years, it's not without consequences. Frequent side effects of immunotherapy include severe autoimmune reactions of the skin, colon, thyroid, and many other organ systems. Less frequently but perhaps most dangerous (and sometimes fatal if not detected early enough) is myocarditis secondary to ICB. Reilly hopes to understand better the underlying immunology that drives these autoimmune reactions, particularly ICB-myocarditis. The goal is to detect better who is at risk of developing the condition and potentially develop strategies to prevent and treat its occurrence. Outside the lab, Reilly enjoys running, riding his bike, swimming, hiking, and doing whatever he can to get outside. On weekends, he plays Ice hockey for a local rec league!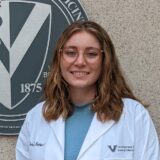 Jacey Marshall, IGP  Student
(Balko Lab)
Jacey's research in the Balko lab will focus on improving the efficacy of immunotherapies, such as anti-PD-L1, in treating triple-negative breast cancer by enhancing the immune response in patients with typically insignificant responses. In her free time, she likes to hike with her dog, knit, rollerblade, and try new restaurants around Nashville!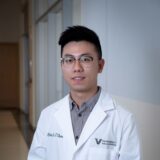 Shu-Ting (Robin) Chou, MS
(Chen Lab)
Robin's research is focused on characterizing how metabolic enzymes could alter tumor cell properties, tumor microenvironment, or immune cell functions to facilitate triple-negative breast cancer metastasis. He is also interested in the therapeutic targeting of metabolic enzymes to sensitize triple-negative breast cancer to immunotherapy. Robin likes to work out and play golf and tennis outside the lab. He also enjoys playing poker and board games, and spending time with his cats.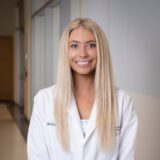 Sarah E Ginther, BS
(Savona Lab)
Sarah's research focuses on hematopoiesis and the biology of myeloid diseases (including acute myeloid leukemia, myelodysplasia, myeloproliferative neoplasms, and MDS/MPN syndromes). She will explore the fundamental questions in myeloid biology, interactions between hematopoietic cells and their environments, and search for meaningful biomarkers of response to develop novel therapies. The Savona Labs' mission is to develop the best treatment as quickly as possible for the appropriate patients. Sarah's first project will uncover how dust from the World Trade Center catastrophe affects the inflammasome and hematopoietic cells, leads to clonal hematopoiesis and increases the risk of disease. Outside of the lab, Sarah has a bunch of hobbies and activities that bring her joy! They include: exploring nature while hiking and visiting national parks, traveling to new cities, fun restaurants and coffee shops, attending sporting events, visiting art museums and the Nashville live music scene and many concerts. But what she truly enjoys is spending quality time with friends and family. 
Claudia Wahoski, BS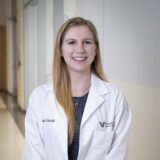 (Singh Lab)
Claudia will complete her graduate research in Dr. Bhuminder Singh's lab, which focuses on epidermal growth factor receptor (EGFR) biology in the context of basic biology and cancer. Her project will work on colorectal cancer, specifically focusing on resistance mechanisms to the antibody cetuximab. She enjoys reading, attending the Nashville Symphony concerts, flying airplanes, and hanging out with her pet bunny Gershwin in her free time.
NEWLY MINTED PhD's IN THE PROGRAM OF CANCER BIOLOGY.
We wish you happiness and success in your scientific careers.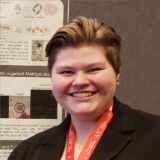 Dr. Jessica Roetman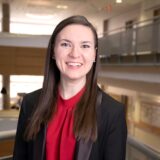 Dr. Jennifer Pilat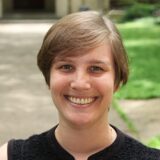 Dr. Samantha Beik
---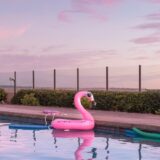 RECENT VANDERBILT FACULTY AND TRAINEES PUBLICATIONS:
SELENOP  modifies sporadic colorectal carcinogenesis and WNT signaling activity through LRP5/6 interactions. The Journal of Clinical Investigation. Jennifer Pilat, Rachel Brown, Victoria Ng, Joshua Thompson, Jeremy Goettel, Ethan Lee, Yash Choksi, Ken Lau, Sarah Short, Christopher Williams, et al.
ERK1/2-RSK regulation of estrogen homeostasis. Wright EB, Lannigan DA. FEBS J. 2023 Apr;290(8):1943-1953.
An immunosuppressed microenvironment distinguishes lateral ventricle-contacting glioblastomas.  Todd Bartkowiak, Sierra Lima, Justine Sinnaeve, Nalin Leelatian, Caroline Roe, Rebecca Ihrie, Jonathan Irish, et al.
JCI Insight. 2023 May 16;e160652.
RAD51 bypasses the CMG helicase to promote replication fork reversal.  Wenpeng Liu, Rahul Bhowmick, David Cortez. Science.
Electrophilic reactive aldehydes as a therapeutic target in colorectal cancer prevention and treatment.  Alain Gobert, Mohammad Asim, Kara McNamara, Lori Coburn, Keith Wilson, et al. Oncogene. April 10, 2023, 42, pages 1685–1691.
STING-activating nanoparticles normalize the vascular-immune interface to potentiate cancer immunotherapy. Wang-Bishop L, Ngwa VM, Hanna A, Edwards D, Wolf MM, Beckermann KE, Balko JM, Rathmell WK, Rathmell JC, Chen J, Wilson JT., et al. Sci Immunol. 2023 May 12;8(83):eadd1153.
No rest for the wicked: Tumor cell senescence reshapes the immune microenvironment Hanna A, Balko JM. Cancer Cell. 2023 May 8;41(5):831-833.
Identification and Characterization of Alveolar and Recruited Lung Macrophages during Acute Lung Inflammation Han W, Tanjore H, Liu Y, Hunt RP, Blackwell TS, et al. J Immunol. 2023 June 1;210(11):1827-1836.
Development of Pluronic nanoparticles of fluorocoxib A for endoscopic fluorescence imaging of colonic adenomas. Uddin MJ, Niitsu H, Coffey RJ, Marnett LJ. J Biomed Opt. 2023 Apr;28(4):040501.
PI3K Inhibition Restores and Amplifies Response to Ruxolitinib in Patients with Myelofibrosis. Moyo TK, Chen SC, Huo Y, Childress M, Ferrell PB, Ayers GD, Mason EF, Savona MR, et al. Clin Cancer Res. 2023 Apr 10:CCR-22-3192.
A Roadmap for the Human Gut Cell Atlas. Zilbauer M, James KR, Zhou R, Lau KS, Coburn LA, Wilson KT, et al. Nat Rev Gastroenterol Hepatol. 2023 May 31.
Nucleophosmin Plays a Role in Repairing DNA Damage and Is a Target for Cancer Treatment. Sekhar KR, Freeman ML. Cancer Res. 2023 May 15;83(10):1573-1580.
Immunogenicity in renal cell carcinoma: shifting focus to alternative sources of tumour-specific antigens.  Wolf MM, Rathmell WK, de Cubas AA. Nat Rev Nephrol. 2023 Jul;19(7):440-450.
Differential Effects of Glutamine Inhibition Strategies on Antitumor CD8 T Cells.   Madden MZ, Ye X, Fisher EL, Wolf MM, Reinfeld BI, et al. J Immunol. 2023 Jun 21:ji2200715.
CXCR2 expression during melanoma tumorigenesis controls transcriptional programs that facilitate tumor growth. Yang J, Bergdorf K, Yan C, Luo W, Chen SC, Ayers GD, Liu Q, Liu X, Boothby M, Weiss VL, Groves SM, Zhang X, Quaranta V, Richmond A, et al. Mol Cancer. 2023 Jun 3;22(1):92.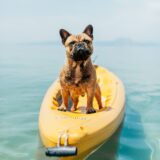 ---

Program in Cancer Biology Faculty and Trainee News and Research:
The 24th Annual Scientific Retreat from the Vanderbilt-Ingram Cancer Center. Please congratulate this year's Scientific Retreat Poster Session Winners and the Vanderbilt-Ingram Cancer Center's Postdoctoral Fellow of the Year and the Graduate Student of the Year.
Graduate student of the year:  Wenjun Wang  (Reinhart-King lab)
Postdoctoral fellow of the year: Wenpeng Liu (Cortez lab)
Poster award winners: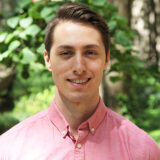 Overall poster winner:
Brad Davidson (Park lab)
First place poster winners:
Monica Bomber (Hiebert lab), Guochong Jia ( W Zheng lab), Taylor Sheehy (J Wilson lab)
Second place poster winners:
Emily Berestesky (Reinhart-King lab),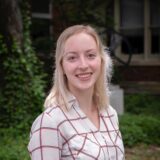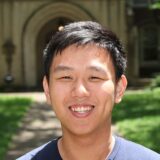 KayLee Steiner (J Rathmell lab)
and
Xiaopeng Sun (Balko lab)

Third place poster winner:
Emily Green (Markham lab), Rachael Smith (Rathmell & J Wilson labs)
---
Erik P. Beadle, MS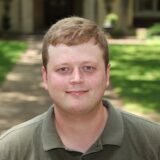 (Rhoades Lab)
Please join us in celebrating Erik's publication in Cancers. His research discusses
Liposarcomas (LPSs) which is a rare soft tissue malignancy with a variable clinical prognosis dependent on tumor differentiation. Well-differentiated (WDLPS) and dedifferentiated (DDLPS) liposarcomas most commonly occur both in extremities and the retroperitoneal cavity. Surgical resection and post-operative monitoring are effective forms of treatment; however, many tumors do recur and require chemotherapeutic intervention. Liposarcomas have high intratumoral variability, which can influence drug response and microenvironment interactions. Using a broad bioinformatics approach, we show that Hedgehog signaling, a developmental pathway, is upregulated in DDLPS and correlates with a tumor gene expression signature that suggests reduced immune cell infiltration and increased extracellular matrix (ECM) protein expression. Read more here.
---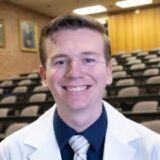 Jeremy Kane, BS
(Johnson Lab)
Jeremy is studying the role of PTHrP functional domains in primary breast tumor growth. These regions are analyzed by selectively expressing different truncated forms of the protein in human cancer cell lines. The interest is in how the molecule is seemingly able to both promote and suppress tumor growth, undergo non-canonical nuclear entry, and bypass its own receptor on cancer cells. Jeremy has a newly published review in Cancers MDPI,
 "Re-Evaluating the Role of PTHrP in Breast Cancer," which discusses exciting biology of PTHrP. Outside of the lab, Jeremy is a big fan of LA Rams football, wine tasting, and watching movies!"
---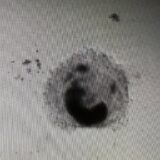 Kensey Bergdorf PhD, a postdoctoral fellow in the Richmond lab discovered the
 "smiling" organoid,  which was the result of her final experiment at Vanderbilt before moving on to a second postdoc at West Virginia University.  The image shows a patient-derived melanoma organoid cultured with matched patient immune cells. To generate the organoids, a fine-needle aspiration on small pieces of resected tumors and plates the recovered cell clusters. This experiment was designed to evaluate the efficacy of a new therapeutic in combination with anti-PD-1 therapy.
---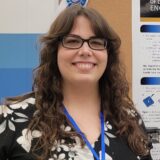 Sarah Libring, PhD
Postdoctoral Researcher
Reinhart-King Lab
Dr. Libring received her Ph.D. from Purdue University in Biomedical Engineering in December 2022. Her thesis work investigated how intracellular and extracellular fibronectin is correlated with the metastatic cascade in breast cancer. In BALB/c mice, they saw a transient increase in extracellular fibronectin in the lungs, which peaked before overt metastasis, coupled with a non-transient increase in total lung volume. However, their work showed that breast cancer cells could not organize extracellular fibronectin independently. Instead, breast cancer cells altered the accumulation and architecture of fibronectin by conditioning lung fibroblasts through soluble factors and extracellular vesicles. Further, the fibronectin produced by conditioned fibroblasts varied as an effect of both the method of conditioning and the phenotype of the breast cell as the conditioning source, using the MCF10Ca1a and MCF10Ca1h epithelial and mesenchymal breast cancer cell lines. Dr. Libring is continuing her work as a postdoc in the Reinhart-King lab, where she is exploring how unique cancer-associated fibroblast subtypes are formed in the lung premetastatic niche if conditioned by breast cancer cells of varying metastatic potentials, using the 67NR, 4T07, and 4T1 cell series. Dr. Libring came to Vanderbilt University with the NCI F99/K00 Predoctoral to Postdoctoral Fellow Transition Award. Outside the lab, she enjoys spending time with her husband and one-year-old son and looks forward to exploring Nashville.
---
What a true pleasure to celebrate each and everyone of our trainees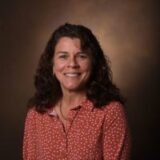 and faculty in the Program in Cancer Biology! I am moving to North Carolina and will miss working with all of the intelligent, curious, talented, kind human beings here at Vanderbilt. Wishing you all peace, joy and serenity.  Until we meet again.
Kerry Whalen Vazquez
---
Newsletter header photo credit to Dr. Anna Vilgelm, "DNA Comets."  Articles and Pictures credit to VU and VUMC. All other photo credit to unsplash.
Vanderbilt University is committed to principles of equal opportunity and affirmative action.
Vanderbilt®, Vanderbilt University®, V Oak Leaf Design®, Star V Design® and Anchor Down® are trademarks of The Vanderbilt University. ©2023 Vanderbilt University. All rights reserved.