The Editor's Note
Hello,
Happy Monday! As the semester is winding down I want to highlight that we only have a few workshops left until spring. Take a look below and be sure to register for upcoming events. The Digital Body Language workshop is a new offering designed to help you enhance and clarify your digital communication. If you attended the workshop on Employee Motivation last week, The 5 Languages of Appreciation workshop is a great follow up. Learn more about each of these events, get registered, and join us this week.
Enjoy!
---
Weekly Work Gem
"In a group, if everybody thinks about the other person's needs, everyone's needs are actually fulfilled in the end. But if you only think about yourself, you are breaking that contract.." – Priya Parker
---
Compliance Fundamentals: Manager Responsibilities at Vanderbilt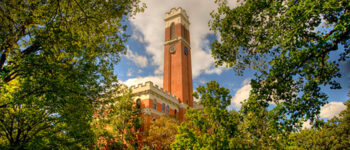 Compliance Fundamentals is intended for leaders who have staff reporting into them as well as Administrative Officers & Administrative Managers.
Whether you're new to Vanderbilt, a newly hired or promoted leader or worked here for a while and need a refresher, please consider registering for this learning opportunity.
All sessions are virtual.
Module 1: Tuesday, November 16 – 8:30 a.m. to 2:00 p.m. A 1-hour lunch break is provided.
Topics include:
EDI
Discrimination, harassment, and retaliation
Internal Audit
Handling complaints & investigations
Title IX
Module 2: Monday, December 6- 8:30 a.m.- noon
Topics include:
Workplace accommodations
FMLA
Workers' Compensation
Module 3: January 2022, Date TBD- 8:30 a.m. – noon
Topics include:
Protection of Minors
Wage & Hour, independent contractors, and working out of state
Conflict of Interest
Labor Relations
Leaders and subject matter experts from Equal Opportunity and Access, the Office of Audit, Risk, & Compliance, Title IX, Equity, Diversity, and Inclusion, HR Consulting, Employee and Labor Relations, Office of Conflict of Interest and Commitment Management, and Protection of Minors will deliver the program's content.
Please note that you can attend all three modules or just one or two depending on your learning needs. Also, you do not have to complete Modules 1–3 in sequence. We will begin another round of the modules in Spring 2022.
To register, visit Oracle Learning and search "HRVU Compliance Fundamentals." All sessions will be virtual.
---
Employee Learning and Engagement Events 
DIGITAL BODY LANGUAGE: IS THAT WHAT THEY MEANT?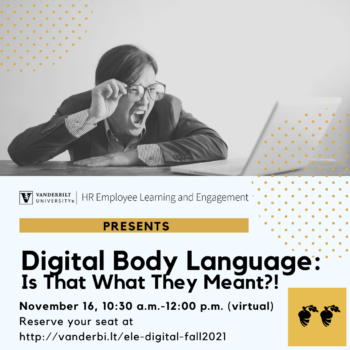 Date: Tuesday, November 16, 2021   |   Time: 10:30am – 12pm CST
FIVE LANGUAGES OF APPRECIATION IN THE WORKPLACE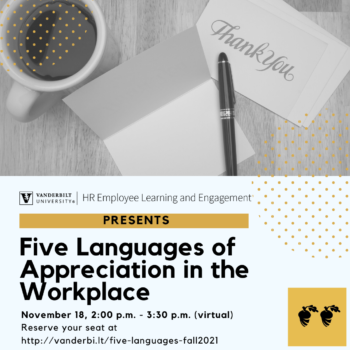 Date: Thursday, November 18, 2021   |   Time: 2pm – 3:30pm CST
****To learn more about upcoming workshops, please visit our website. 
---
The Hybrid Hub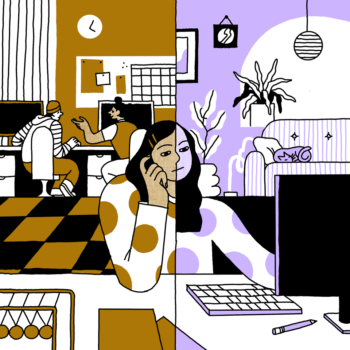 VU Hybrid Work Resources:
Vanderbilt University's Hybrid and Remote Work Policy for Staff
Vanderbilt University's Hybrid and Remote Work Toolkit
Additional Resources:
Want Hybrid Work to Succeed? Trust, Don't Track, Employees
American Psychological Association | The Future of Work: 5 Questions for Tsedal Neeley
How To Successfully Make A Hybrid Work Setup Work For You And Your Boss: Life Kit
Reimaging Higher Education for the Age of Flexible Work
HBR: Managing Introverts and Extroverts in the Hybrid Workplace
Deloitte's Return to Campus: Perspectives from Higher Education Leaders
---
Did You Know…?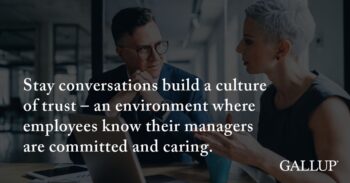 "Stay conversations are one-on-one conversations designed to learn more about the employee, including their passions and career goals, what they value in life, and what they need to be more successful in their role." Learn more about stay conversions here.
---
Virtual & Community Events 
LeaderFactor Presents: Employee Engagement & Psychological Safety – Which Comes First?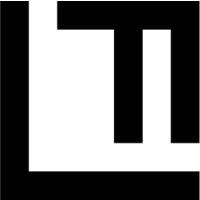 Many companies spend time and effort focusing on employee engagement when the research shows that psychological safety comes first. Psychological safety is the lead measure and employee engagement is the lag measure. Learn more in the upcoming webinar.
Date: Friday, November 19, 2021   |   Time: 11am – 12pm CST 
CliftonStrengths (via LinkedIn) Presents: How to Improve Teamwork in the Hybrid Workplace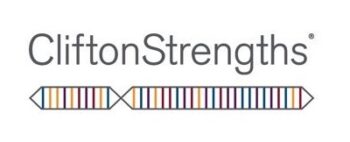 How can you foster trust in the hybrid workplace? What are some practical tips and best practices to make sure everyone's voices are heard as we get used to this new normal? Join Jim Collison and Danny Lee as they discuss this topic.
Date: Friday, November 19, 2021   |   Time: 12:30pm – 1pm CST
---
Additional Learning Resources
FEATURED PODCAST
HBR IdeaCast  | Building Successful Hybrid Teams (Back to Work, Better)
Listen in less than 30 minutes!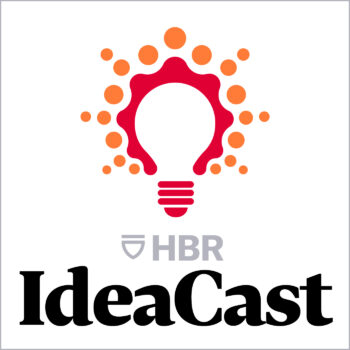 Tsedal Neeley, professor at Harvard Business School, has been studying remote work and global teams for years. In episode 732 early in the pandemic, she shared how managers could lead their teams while many team members worked from home. Now, as more people return to more in-person work, she's back on the show to help managers lead their teams effectively in a hybrid workplace, a mix of working from home and the office. Neeley is the author of the book Remote Work Revolution: Succeeding from Anywhere, and the HBR article "15 Questions About Remote Work Answered."
SUGGESTED READING
Stop Telling Managers to Be Empathetic. Try This Instead.
(David Rock, FastCompany)
To Be Successful in Work and Life, Follow the Identity Rule
(Minda Zetlin, Inc.)
12 Effective Ways for Managers to Get Employees Re-Engaged
(Forbes Coaches Council, Forbes)
RECOMMENDED LEARNING
Achieve Your Learning Goals– Tap Into Skillsoft Books and Videos!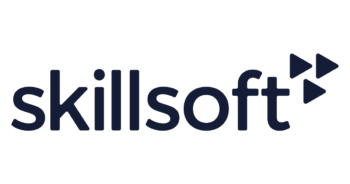 Skillsoft Books and Videos offers you access to a library of more than 40,000 audiobooks, videos, live events, and related content. You can locate this wealthy resource under Learning Item Number OLC930045 in Oracle, or simply visit Oracle Learning to enroll.
NOTE: You must use Mozilla Firefox to access the library. 
---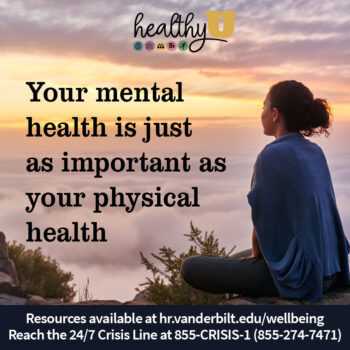 ---
Communicate & Share Your Ideas
Got content suggestions? We'd love to hear from you. Email us your questions, thoughts, suggestions or requests for the newsletter or workshops and trainings at ele@vanderbilt.edu. Continue to encourage your teams and colleagues to opt-in to Rooted in Learning. Also, please note that a Vanderbilt email address is required to subscribe.
Happy Learning!
The Employee Learning and Engagement Team