The Editor's Note
Hello,
Welcome to September! Other than looking forward to the weather cooling off a bit, what are you most looking forward to this fall? Something I've been anticipating is the lineup of new and revamped events that we are rolling out this fall. Be sure to visit the Employee Learning and Engagement section below for this month's lineup, as we have events coming up as soon as THIS WEEK! Reserve your spot and visit our website for event descriptions.
The ELE team looks forward to continued learning with you this fall.
Enjoy!
---
Weekly Work Gem
"You don't get quality work when people are struggling with quality of life." – Adam Grant
---
Employee Learning and Engagement Events
#IamREMARKABLE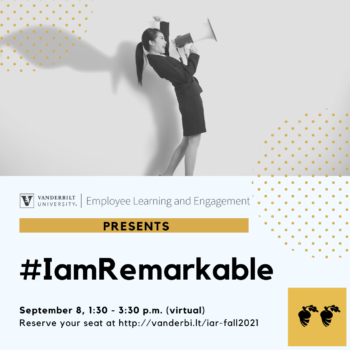 Date: Wednesday, September 8, 2021   |   Time: 1:30pm – 3:30pm CST
ZOOMED OUT: VIRTUAL MEETING FATIGUE AND HOW TO COMBAT IT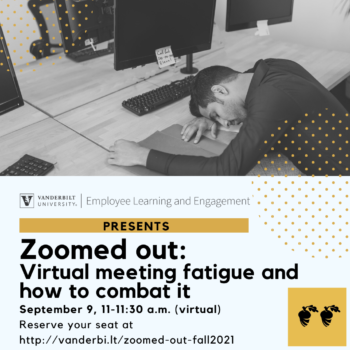 Date: Thursday, September 9, 2021   |   Time: 11am – 11:30am CST
REMOTE WORK: BEST PRACTICES & COMMON PITFALLS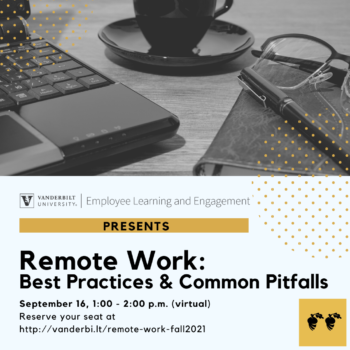 Date: Thursday, September 16, 2021   |   Time: 1pm – 2pm CST
CREATING PRESENTATIONS THAT STICK: DESIGN PRINCIPLES (PART 1)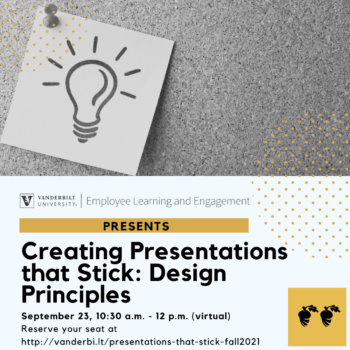 Date: Thursday, September 23, 2021   |   Time: 10:30am – 12pm CST
FIERCE. FOUNDATIONS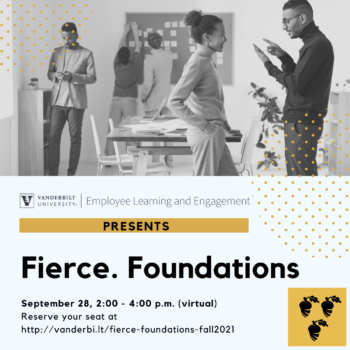 Date: Tuesday, September 28, 2021   |   Time: 2pm – 4pm CST
CREATING PRESENTATIONS THAT STICK: ENGAGING YOUR AUDIENCE (PART 2)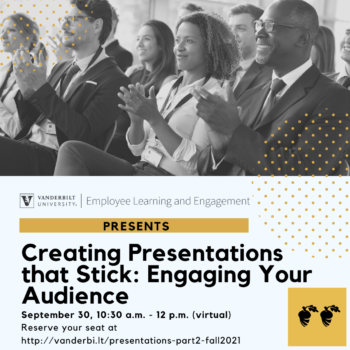 Date: Thursday, September 30, 2021   |   Time: 10:30am – 12pm CST
****To learn more about upcoming workshops, please visit our website here. 
---
The Hybrid Hub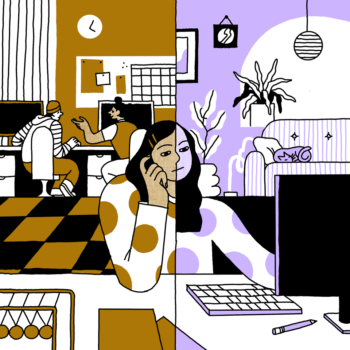 This week's hybrid work feature: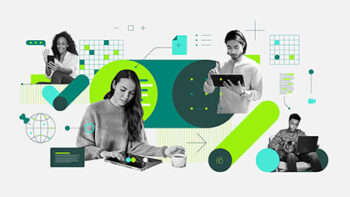 Join Satya Nadella, chairman and CEO of Microsoft, and Ryan Roslansky, CEO of LinkedIn, for a conversation on the trends shaping the future of work, including new data insights and product innovations to help companies navigate the road ahead.
Date: Thursday, September 9th   |   Time: 10:15am – 10:45am CST
VU Hybrid Work Resources:
Vanderbilt University's Hybrid and Remote Work Policy for Staff
Vanderbilt University's Hybrid and Remote Work Toolkit
---
Campus Partner Opportunities
The Margaret Cuninggim Women's Center Introduces Work-Life Workshops for Fall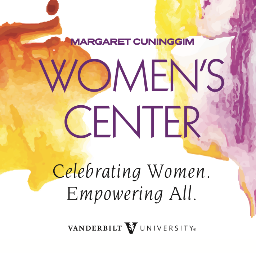 The Women's Center's first Work-Life Workshop will be on Wednesday, September 8 at 12:00 PM via Zoom. Please RSVP to receive the Zoom link. Please note that there is an option to receive a code to take the Strengths inventory: please only request this if you have not previously taken the Strengths inventory before. We have a very small number of these codes to give out.
Finding Your Strengths | Roshaunda Ross-Orta, Assistant Director, Student Organizations, Leadership, and Service
Date: Wednesday, September 8th   |   Time: 12pm
Imposter Syndrome: Feeling Like a Fraud | Stacey Satchell, Senior Academic Life Coach, The Graduate School
Date: Tuesday, October 5th   |   Time: 12pm
Gaslighting in the Workplace, Heather Kamper, LCSW, EAP Clinical Counselor and Coordinator of the VUMC SHARE Center
Date: Thursday, November 4th   |   Time: 12pm
The Student Center for Social Justice and Identity and The Office of Equity, Diversity, and Inclusion Host – Straddling Class in the Academy Workshop for Staff & Faculty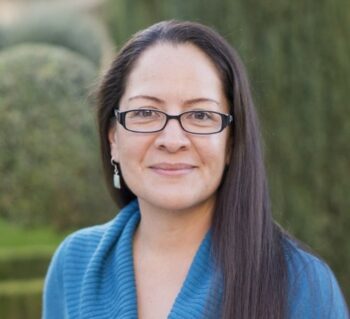 Co-author of Straddling Class in the Academy, dr. becky martinez, will be visiting Vanderbilt on September 13th to facilitate an interactive workshop with faculty and staff regarding social class. During this workshop, dr. martinez will discuss the complexities and impact of social class and classism within higher education. This session will take place at 10 a.m. to 12 p.m. in the SLC Ballroom A/B. Register for this workshop at: https://anchorlink.vanderbilt.edu/event/7230120.
---
Did You Know…?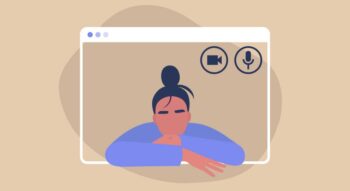 From school to the workplace, research shows that zoom dysmorphia is on the rise as people return to in-person settings. In an article recently published by the TODAY show, zoom dysmorphia is defined as, "a feeling of unhappiness or dissatisfaction about their looks exacerbated by looking at themselves on camera all day." A study revealed that over 70% of 7,295 people surveyed expressed concern or feelings of anxiety related to their in-person appearance. Access the article here to learn more.
---
Virtual & Community Events
WorkHuman Presents: The Lighthouse Effect – Nine Steps to Cultivating Everyday Gratitude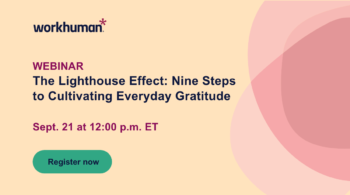 Here's what you can expect:
Gain actionable insights to create an organizational culture that drives engagement
Learn how small, everyday moments of gratitude can be a bridge to inclusion and belonging
Reflect on and develop a deeper appreciation for the human lighthouses in your own life
Date: Tuesday, September 21, 2021   |   Time: 11am CST
In times of adversity, a "human lighthouse" can illuminate the path ahead. Steve Pemberton – Workhuman® CHRO and author of the upcoming book, "The Lighthouse Effect", along with Carmen Ortiz-McGhee, COO of the National Association of Investment Companies (NAIC) – will share the impact that these steadfast, selfless people can have on your organization in this upcoming webinar.
---
Additional Learning Resources
FEATURED PODCAST
Your Brain at Work Podcast  | Innovation and Mitigating Unconscious Bias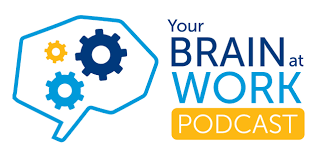 Unconscious bias is a huge driver of work outcomes. In this episode of Your Brain at Work Live, Janet Stovall sits down with NYU's inaugural senior vice president for global inclusion and strategic innovation, Dr. Lisa Coleman, and Dr. Natalie Byfield, a professor in the Department of Sociology and Anthropology at St. John's University. The three discuss bias as an impediment to innovation, bias as a cultural concern, and ways of overcoming the inherent challenges of bias.
SUGGESTED READING
The Secret to Happiness at Work
(Arthur C. Brooks, The Atlantic)
What's Killing Your Creativity at Work
(Davia Sills, Psychology Today)
The Future of Work is More Than About Where We Work- Who Works
(Heather E. McGowan, Forbes)
RECOMMENDED LEARNING
Achieve Your Learning Goals– Tap Into Skillsoft Books and Videos!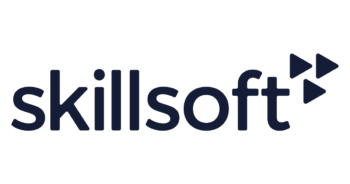 Skillsoft Books and Videos offers you access to a library of more than 40,000 audiobooks, videos, live events, and related content. You can locate this wealthy resource under Learning Item Number OLC930045 in Oracle, or simply visit Oracle Learning to enroll.
NOTE: You must use Mozilla Firefox to access the library. 
---
Communicate & Share Your Ideas
Got content suggestions? We'd love to hear from you. Email us your questions, thoughts, suggestions or requests for the newsletter or workshops and trainings at ele@vanderbilt.edu. Continue to encourage your teams and colleagues to opt-in to Rooted in Learning. Also, please note that a Vanderbilt email address is required to subscribe.
Happy Learning!
The Employee Learning & Engagement Team