The Editor's Note
Hello,
Happy Monday! This week's newsletter is packed with learning opportunities, from engaging reading or listening experiences to attending virtual events on a number of work-related topics. Outside of the hands-on learning you do day-to-day through your work, I hope you're able to fit in learning opportunities to stay sharp and in the know in this ever-evolving world of work.
Don't forget to visit our website for ELE event descriptions and reserve your spot.
Enjoy!
---
Weekly Work Gem
"We all have hidden failures. Sharing your failures makes you stronger, not weaker." – Leticia Gasca
---
Employee Learning and Engagement Events 
JOIN US FOR OUR FIRST FALL THOUGHT LEADER SERIES EVENT –  THE INTERGENERATIONAL APPROACH: FROM OPPOSITION TO OPTIMISTIC WITH DR. AERIAL ELLIS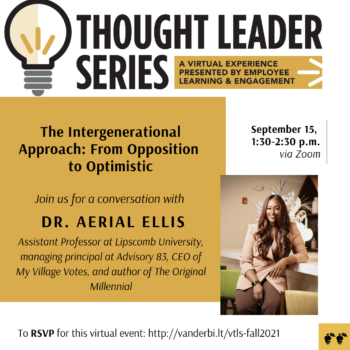 Date: Wednesday, September 15, 2021   |   Time: 1:30pm – 2:30pm CST
This session will feature an open conversation about four generations at work and the gaps, challenges, advantages and opportunities this historic shift presents for organizations (for all leaders/managers; executives, deans, department heads, students). 
Participants will:  
Learn the distinct influences and attributes for each generation in the workforce. 
Discuss the different working styles and values associated with generational differences. 
Identify best practices for communication. 
Create an action plan towards the path of collaboration and productivity. 
REMOTE WORK: BEST PRACTICES & COMMON PITFALLS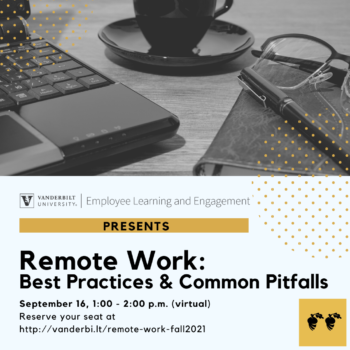 Date: Thursday, September 16, 2021   |   Time: 1pm – 2pm CST
CREATING PRESENTATIONS THAT STICK: DESIGN PRINCIPLES (PART 1)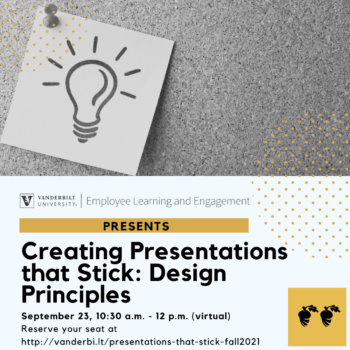 Date: Thursday, September 23, 2021   |   Time: 10:30am – 12pm CST
FIERCE. FOUNDATIONS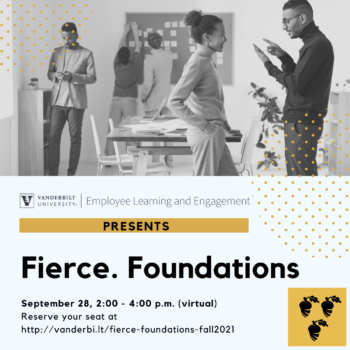 Date: Tuesday, September 28, 2021   |   Time: 2pm – 4pm CST
CREATING PRESENTATIONS THAT STICK: ENGAGING YOUR AUDIENCE (PART 2)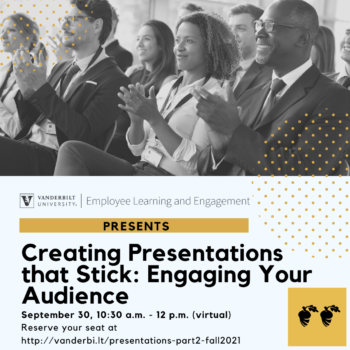 Date: Thursday, September 30, 2021   |   Time: 10:30am – 12pm CST
****To learn more about upcoming workshops, please visit our website here. 
---
The Hybrid Hub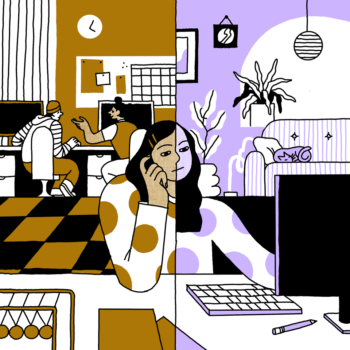 This week's hybrid work feature: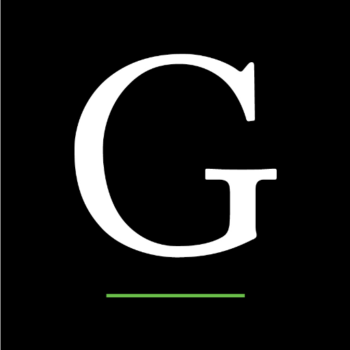 Join Gallup experts Ben Wigert and Kristin Barry as they explore Gallup's latest hybrid work findings and share why going back to work in the office has to be worth it.
Date: Thursday, October 7th   |   Time: 11:30am – 12 pm CST
VU Hybrid Work Resources:
Vanderbilt University's Hybrid and Remote Work Policy for Staff
Vanderbilt University's Hybrid and Remote Work Toolkit
---
Campus Partner Opportunities
The Margaret Cuninggim Women's Center Work-Life Workshops for Fall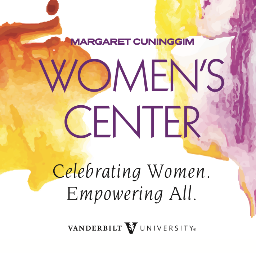 Imposter Syndrome: Feeling Like a Fraud | Stacey Satchell, Senior Academic Life Coach, The Graduate School
Date: Tuesday, October 5th   |   Time: 12pm
Gaslighting in the Workplace, Heather Kamper, LCSW, EAP Clinical Counselor and Coordinator of the VUMC SHARE Center
Date: Thursday, November 4th   |   Time: 12pm
---
Did You Know…?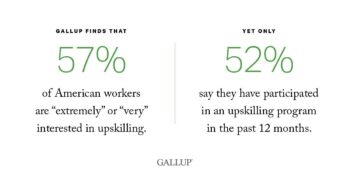 Interested in learning more? Download the report for insights on:
Who wants upskilling opportunities and who has access to them?
How does upskilling benefit employees' livelihoods?
How does access to upskilling attract talent?
What barriers face workers who want upskilling?
---
Virtual & Community Events
Gallup Presents: Create a Culture of Coaching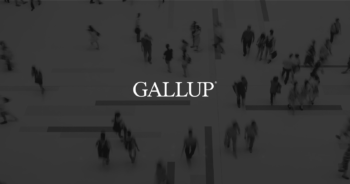 Register for this webinar to learn:
How to use strengths-based coaching in your organization to maximize engagement and performance
The unique role that coaches, champions and managers play in creating high-performance teams
Best practices from top companies for employing a strengths-based coaching approach
Steps you can take now to begin the transition to a culture of coaching
Date: Wednesday, September 15, 2021   |   Time: 12pm CST
The speaker for this event, Josh MacFarland, is the Market Leader for Gallup in the Mid-Atlantic region and oversees workplace consulting and development engagements for large and mid-size clients.
WorkHuman Presents: The Lighthouse Effect – Nine Steps to Cultivating Everyday Gratitude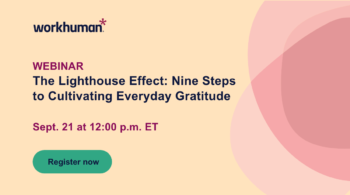 Here's what you can expect:
Gain actionable insights to create an organizational culture that drives engagement
Learn how small, everyday moments of gratitude can be a bridge to inclusion and belonging
Reflect on and develop a deeper appreciation for the human lighthouses in your own life
Date: Tuesday, September 21, 2021   |   Time: 11am CST
In times of adversity, a "human lighthouse" can illuminate the path ahead. Steve Pemberton – Workhuman® CHRO and author of the upcoming book, "The Lighthouse Effect", along with Carmen Ortiz-McGhee, COO of the National Association of Investment Companies (NAIC) – will share the impact that these steadfast, selfless people can have on your organization in this upcoming webinar.
---
Additional Learning Resources
FEATURED TALK
TED  | How to Stop Languishing and Start Finding Flow
Listen in less than 20 minutes!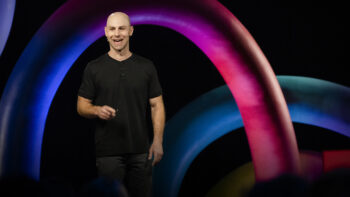 Have you found yourself staying up late, joylessly bingeing TV shows and doomscrolling through the news, or simply navigating your day uninspired and aimless? Chances are you're languishing, says organizational psychologist Adam Grant — a psychic malaise that has become all too common after many months of the pandemic. He breaks down the key indicators of languishing and presents three ways to escape that "meh" feeling and start finding your flow.
SUGGESTED READING
When Chance Encounters at the Water Cooler Are Most Useful
(Claire Cain Miller, The New York Times)
Autonomy Is the Absolute Key to Getting "The New World of Work" Right
(Sherilyn George-Clinton, Your Brain at Work Blog)
Leaders: Here Are 3 Ways to Guide Your Teams Through Continued Uncertainty
(Rebecca Weintraub and Steven Lewis, FastCompany)
RECOMMENDED LEARNING
Achieve Your Learning Goals– Tap Into Skillsoft Books and Videos!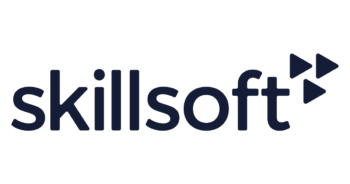 Skillsoft Books and Videos offers you access to a library of more than 40,000 audiobooks, videos, live events, and related content. You can locate this wealthy resource under Learning Item Number OLC930045 in Oracle, or simply visit Oracle Learning to enroll.
NOTE: You must use Mozilla Firefox to access the library. 
---
Communicate & Share Your Ideas
Got content suggestions? We'd love to hear from you. Email us your questions, thoughts, suggestions or requests for the newsletter or workshops and trainings at ele@vanderbilt.edu. Continue to encourage your teams and colleagues to opt-in to Rooted in Learning. Also, please note that a Vanderbilt email address is required to subscribe.
Happy Learning!
The Employee Learning & Engagement Team