Vera Mayhew Todd, PhD and Miranda Sowder Clements, PhD are recent graduates from the Program in Cancer Biology, and have had two publications accepted in August 2021! The first paper was recently accepted by Communications Biology titled, "Hypoxia-inducible factor signaling in breast tumors controls spontaneous tumor dissemination in a site-specific manner". The second paper published in Oncogene  entitled, "HDAC inhibitors induce LIFR expression and promote a dormancy phenotype in breast cancer", discusses that despite advances in breast cancer treatment, residual disease driven by dormant tumor cells continues to be a significant clinical problem. In addition, leukemia inhibitory factor receptor (LIFR) promotes a dormancy phenotype in breast cancer cells, and LIFR loss is correlated with poor patient survival. They demonstrate that histone deacetylase inhibitors (HDACi), which are in phase III clinical trials for breast cancer, epigenetically induced LIFR and activated a pro-dormancy program in breast cancer cells. In addition, HDACi slowed breast cancer cell proliferation and reduced primary tumor growth. 
Dr. Clements is currently a Postdoctoral Researcher at the National Cancer Institute, working on characterizing stromal cell populations in the pre-metastatic niche and their role in tumor progression and metastasis, emphasizing the bone microenvironment. In addition, Dr. Todd recently accepted a position at Belmont University as a Lecturer.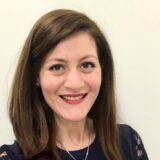 Ann Hanna, PhD
Postdoctoral Research Fellow (Balko Lab)
Dr. Hanna recently published a review article in Breast Cancer Research and Treatment, titled, "Breast Cancer resistance mechanisms: challenges to immunotherapy."  The clinical implementation of immunotherapy has profoundly transformed cancer treatment. Targeting the immune system to mount anti-tumor responses can elicit a systemically durable response. Employing immune checkpoint blockade (ICB) has suppressed tumor growth and vastly improved patient overall and progression-free survival in several cancer types, most notably melanoma and non-small cell lung carcinoma. Despite the widescale clinical success, ICB response is heterogeneously efficacious across tumor types. Many cancers, including breast cancer, are frequently refractory to ICB. This review discusses the challenges facing immunotherapy success and addresses the underlying mechanisms responsible for primary and acquired breast cancer resistance to immunotherapy.
---

CANCER BIOLOGY STUDENT ASSOCIATION EXECUTIVE BOARD MEMBERS

The Program in Cancer Biology Student Led Retreat is December 2, 2021.
The CBSA is planning the retreat this year and Dr. Padma Sharma from MD Anderson has agreed to be the guest speaker! We hope to have the event in person. Let us welcome our 2021-2022 CBSA officers who are working hard for our program's success. Top L-R: Bottom L-R:
Carlos Detres Roman, BS – Treasurer (Philip Lab)
Ebony Hargrove Wiley, BS – Academic Chair (Fingleton Lab)
Kara McNamara, BS – Social Chair (Wilson Lab)
Brandie Taylor, MS, BS – Communications Chair (Balko Lab)
Amanda Hesterberg, BS – Philanthropy Chair ( Hurley Lab)
Brad Davidson, BS – Executive Chair (Park Lab)
Wendy Bindeman, BA – Philanthropy Chair ( Fingleton Lab)
---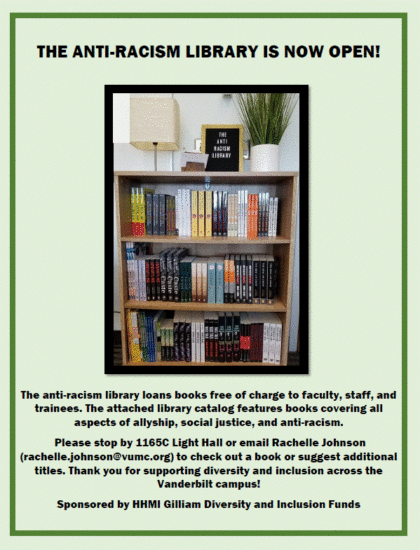 READING SUGGESTIONS FROM THE ANTI-RACISM BOOK CATALOG

RECENT ACTIVITIES OF THE CANCER BIOLOGY DEI COMMITTEE:
Rachelle Johnson PhD, led the development of two sponsored lecture series featuring URM faculty:
1)  Avery D. Posey PhD, Assistant Professor, Department of Systems Pharmacology and Translational Therapeutics, Perelman School of Medicine.
2) Dineo Khabele MD, Professor and Chair of the OB/GYN Department at the University of Kansas.
The DEI Committee sent out a survey to evaluate faculty and trainee interest in various activities that would promote diversity, equity and inclusion.
Dana Brantley-Sieders PhD, Brenda Rios BS and Courtney Edwards BS, are developing more opportunities around alternative career training. They plan to have a seminar series featuring former Vanderbilt trainees, from diverse backgrounds, with student-led informal discussions on the speaker's personal and professional path to their current position.
Julie Rhoades PhD and Marjan Rafat PhD are working on developing and distributing ongoing DEI training opportunities. 
The DEI is planning and developing more volunteer opportunities and mentoring networks, please reach out and join our team.  Also, if you would like more information about the DEI library that has been established, please contact Rachelle.Johnson@vanderbilt.edu. 
---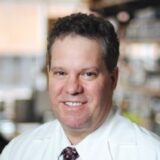 Keith T Wilson, MD, Thomas F. Frist, Sr. Chair in Medicine, Professor of Medicine, Professor of Pathology, Microbiology and Immunology. Director, Center for Mucosal Inflammation and Cancer.
Dr. Wilson's laboratory is focused on gastrointestinal mucosal inflammation and carcinogenesis. This includes the innate immune response in macrophages and the identification of ways that this response is ineffective. They have also elucidated mechanisms whereby epithelial responses are inappropriate, leading to risk for cancer development. Dr. Wilson and his collaborators recently published their research findings in Oncogene, which discusses, "Ornithine decarboxylase (ODC1) gene variant (rs2302615) is associated with gastric cancer independently of Helicobacter pylori CagA serostatus".  The primary cause of gastric cancer is chronic infection with Helicobacter pylori (H. pylori), particularly the high-risk genotype cagA, and risk modification by human genetic variants. They studied 94 variants in 54 human genes for association with gastric cancer, including rs2302615 in ornithine decarboxylase (ODC1), which may affect response to chemoprevention with the ODC inhibitor, eflornithine (difluoro-methyl ornithine; DFMO). Our population-based, case-control study included 1366 individuals (664 gastric cancer cases and 702 controls) from Western Honduras, a high incidence region of Latin America. The main findings were that the ODC1 variant rs2302615 was associated with gastric cancer (odds ratio = 1.36; p = 0.018) in a model adjusted for age, sex, and CagA serostatus. In addition, the ODC1 SNP association with gastric cancer was stronger in individuals who carried a TLR4 polymorphism. It was concluded that the ODC1 variant, rs2302615, is associated with gastric cancer and supports chemoprevention trials focused on inhibition of ODC.
Richard M Peek, Jr., MD
is the director of the Division of Gastroenterology, Hepatology, and Nutrition, The Mina Cobb Wallace Chair in Immunology, and Professor of Medicine and Pathology, Microbiology and Immunology at Vanderbilt University Medical Center. His research focuses on the molecular origins and pathways that regulate inflammation and induced malignancies in cancer. Read about his research and break through discoveries in Gastric Cancer and IBC here.
---
RECENTLY DEPARTED FACULTY: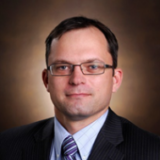 Sergey V Novitskiy, MD, PhD
Adjunct Associate Professor in the Department of Medicine has worked at Vanderbilt University for 17 years and has started a new career in Industry. His team at Amgen (South San Francisco) works on Immuno-Oncology, founded in 1980 as Applied Molecular Genetics; Amgen's current specialty is human therapeutics. Historically, some of Amgen's most successful drugs–Neupogen, Prolia, Vectibix, among others–have been used to treat low white blood cell counts, osteoporosis, and colorectal cancer, respectively. Please reach out to Dr. Novitskiy (sergey.v.novitskiy@Vanderbilt.Edu) if you are interested in joining the Amgen team.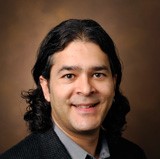 Aron Parekh, PhD
Assistant Professor of Otolaryngology – Head and Neck Surgery and Biomedical Engineering.
The Program in Cancer Biology wishes Dr. Parekh success in his new position at Susan G Komen as the Scientific Program Manager. Dr. Parekh's unique talent and scientific expertise have been a gift to Vanderbilt and our colleagues. Thank you for your contributions to the Program in Cancer Biology!
---
Program in Cancer Biology Lab Highlight
This month we wish to highlight Justin Balko's lab and the many accomplishments and hard work from his team members.
Pictured L to R: Ann Hanna, PhD, Elizabeth Wescott, Abbey Toren, Justin M. Balko, Pharm.D, PhD, Derek Franklin, PhD, Susan Opalenik, PhD, Maggie Axelrod, MSTP, Jamaal James, PhD.
The BALKO LAB  studies how to make immunotherapy work better – this includes identifying the patients who will most likely benefit; testing new combinations that expand benefit to more patients, and finally, identifying biomarkers and mechanisms of toxicity to immunotherapy so we can mitigate risk in the clinic. We focus on improving treatment outcomes in breast cancer (particularly triple-negative breast cancer) as well as in other solid tumors through translational approaches. To accomplish this, we integrate data from genomic and molecular profiling studies with molecular biology and signal transduction methodologies to identify altered pathways in cancer, the functional consequences of these alterations, and ways to directly target them in patients to improve clinical outcomes and survival. These efforts span in silico (publicly available databases), in vitro (cell culture), in vivo (mouse and human clinical studies) and in situ (histology) methods.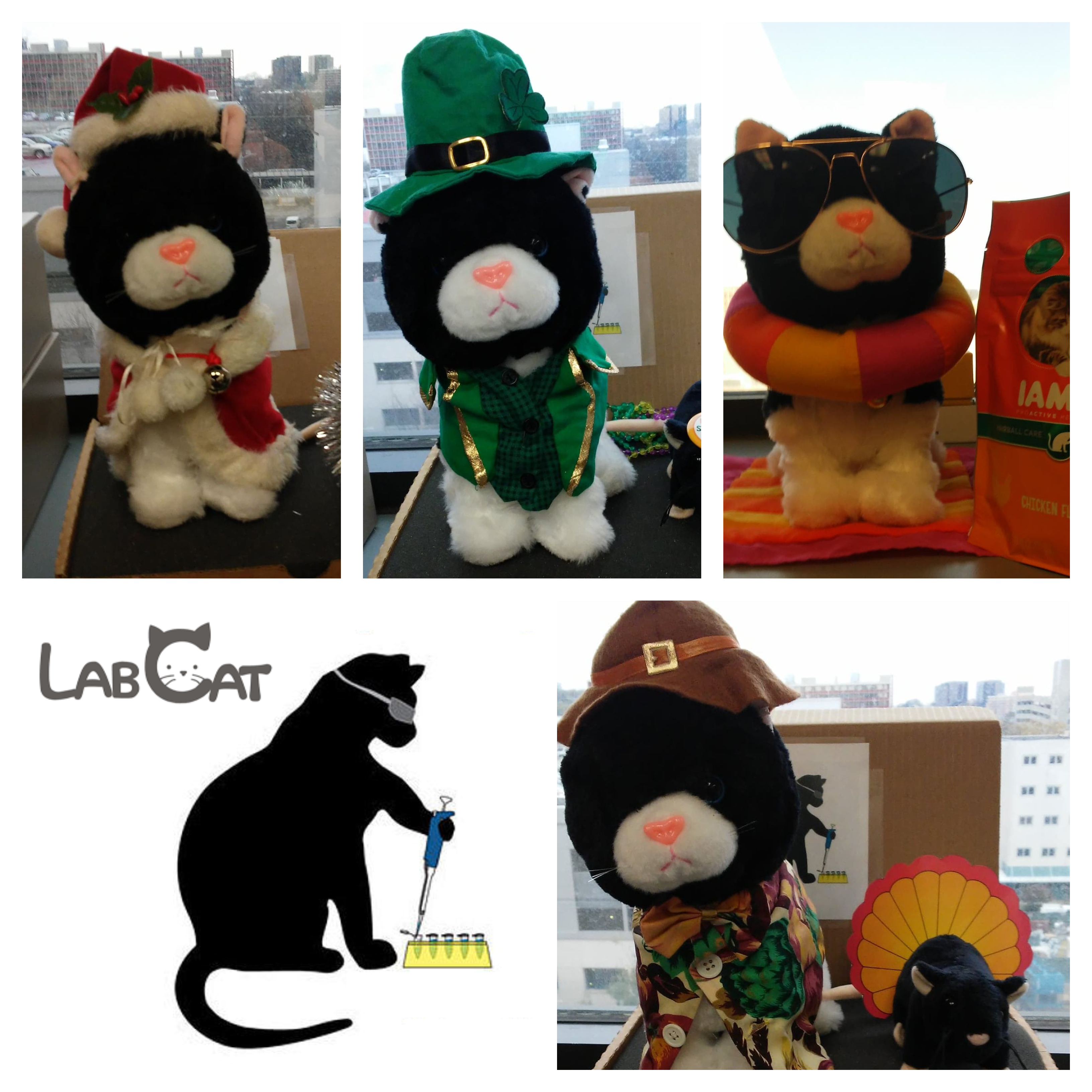 Meet the Balko Lab Cat!  Since they can't (and don't) have real animals in the lab, this one is a robot cat, and she is always dressed appropriately for each season.
---
Send Us Your News
Have a suggestion, announcement or event  you want to share with the Cancer Biology community? Please E-mail:kerry.w.vazquez@vanderbilt.edu
Newsletter header photo credit to Dr. Anna Vilgelm, "DNA Comets". Photo and article credit to VU and VUMC. Fall foliage picture and partial write up credit the farmers almanac.com. Clayton Marshall article credit to Leigh MacMillan. Cancer cells picture credit to the NIH and Roger Chalkley -Vanderbilt.