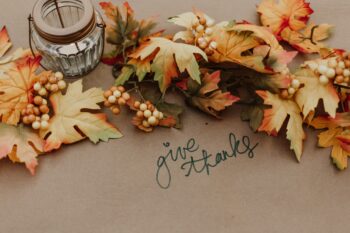 2020 has been filled with change and challenges, both positive and negative. Let's remind ourselves daily that "Gratitude unlocks the fullness of life. It turns what we have into enough and more. It turns denial into acceptance, chaos to order, confusion to clarity. It can turn a meal into a feast, a house into a home, a stranger into a friend. Gratitude makes sense of our past, brings peace for today, and creates a vision for tomorrow."
Enjoy the Thanksgiving holiday and stay safe.
---
Getting to know you…
Faculty Spotlight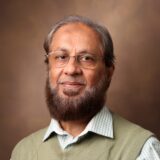 Jamshedur Rahman, M.Sc./Ph.D.
Research Assistant Professor of Medicine, Massion Lab, Allergy/Pulmonary & Critical Care Medicine.
Dr. Rahman is researching "Molecular signatures in the airways of individuals at risk for lung cancer." The airway epithelium represents the field of carcinogenesis where stochastic DNA alterations by tobacco carcinogens and environmental agents cause lung tumor formation. We investigate these alterations by deep targeted and whole-exome sequencing of the cytologically normal airway epithelial cells collected from at-risk individuals. Our hypothesis is that airway epithelial cells of individuals at risk for lung cancer harbor driver gene mutations. Based on our previously published results on metabolic reprogramming in the bronchial epithelium of at-risk individuals, we validate selected candidate proteomic determinants of lung cancer risk. My projects' overall goal is to identify the molecular signatures of lung tumorigenesis in the airways of risk-stratified individuals. These signatures will provide tools for the risk assessment and early detection of lung cancer and assist in the formulation of effective surveillance strategies. Using normal and tumorigenic bronchial epithelial cell lines, we investigate the link between metabolic reprogramming and genomic instability resulting from the driver gene mutations. This in vitro model will facilitate dissecting mechanisms of cellular transformation at the earliest point of lung tumorigenesis.
When not working, Dr. Rahman loves gardening and spending time with his family and friends.
---
Trainee Spotlight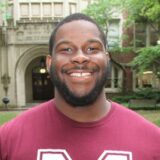 Logan Northcutt, BS, a graduate student in the Program of Cancer Biology (Rafat Lab), has recently joined the V14 Diversity, Equity, and Inclusion mentorship program committee as an ex officio, Organization of Black Graduate and Professional Students. Logan is from Hoffman, North Carolina. He received his B.S. in Chemistry from Morehouse College in Atlanta, Georgia. At Morehouse College, Logan researched in the laboratory of Dr. Juana Mendenhall, where he developed therapeutic hydrogels to regenerate degraded cartilage. At Vanderbilt, Logan's project focuses on creating synthetic microenvironments to understand tumor cell behavior better. Logan's future goal is to become a professor at a historically black college or university. We are proud of the research Logan is doing and the impact he's making in our communities.
---
Staff Spotlight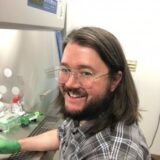 Chad Potts, BS, returned to VUMC one year ago and took a lab manager position in Brent Ferrell's lab in Hematology/Oncology
to study clonal hematopoiesis myelodysplastic syndromes (MDS), and AML. Before that, he worked on medulloblastoma and cerebellar development in Anna Kenney's lab at Emory University in Atlanta for six years and during his first stint at VUMC before that. His current work primarily focuses on characterizing mouse models of clonal hematopoiesis and AML with mass cytometry. He's also beginning to work on single-cell DNA sequencing and establishing Dr. Ferrell's mouse colony. Chad has nine years of bench experience, is always up for learning a new technique, and prides himself on being the lab's Swiss Army knife. He has a B.S. in Biochemistry and Molecular Biology from the University of Georgia, and despite the annual cycle of hope and disappointment, he remains an avid Bulldogs fan. When not in the midst of a pandemic, Chad also enjoys frequent concerts and the occasional brewery outing. He lives in East Nashville with his wife.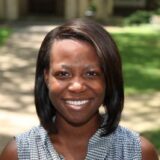 Kristin A. Kwakwa, BS.
Ph.D. candidate in the Rhoades Lab recently defended her thesis in the Program of Cancer Biology. Her defense presentation was "Targeting Gli-Mediated Transcription in Bone Metastasis: An Emerging Therapeutic Approach for Patients with Tumor-Induced Bone Disease."
---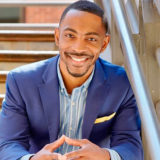 FDA-AACR Oncology Educational Fellowship.
2020 may be a challenging year for some, but it has been a very successful year for Henry J Henderson III, Ph.D. (Lovly Lab). Henry was selected for the prestigious AACR-FDA fellowship. This fellowship is designed to promote scientific progress by exchanging scientific knowledge in oncology education, collaborative learning, and research. Through targeted educational activities and interactions with experts from the AACR and the FDA Oncology Center of Excellence, FDA-AACR Oncology Educational Fellows will increase their familiarity and experience with oncology drug development and the regulatory review process. Henry is also the co-founder of #BlackinCancer.  If you missed the Oct 11th-Oct 17th panel discussions for #BlackinCancer, please view the lectures here,https://www.blackincancer.com/black-in-cancer-week.
---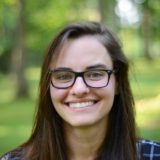 Margaret Axelrod, MSTP dual degree student in the Balko lab and a member of the Program in Cancer Biology, received a 2020 NIH award of $49,775 to research "Modulation of the anti-tumor immune response by major histocompatibility class II expression on tumor cells." Margaret is the first author on the recently published paper in the AACR journals Clinical Cancer Research titled, "Changes in Peripheral and Local Tumor Immunity after Neoadjuvant Chemotherapy Reshape Clinical Outcomes in Patients with Breast Cancer." Research information here. In her spare time Margaret loves to advocate for equitable access to health care @TennHCC and is an avid rock climber.
.
---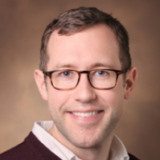 2020 Young Investigator Award Recipient: Frank M Mason, Ph.D., has received 1.3 M from Kidneycancer.org. The KCA award will research the Therapeutic Vulnerability of SETD2 mutant RCC. Dr. Mason is a Research Assistant Professor of Medicine in the Division of Hematology and Oncology. Congratulations on this funding for your groundbreaking kidney cancer research.
---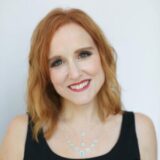 Christine Lovly, MD, Ph.D., Ingram Associate Professor of Cancer Research, has been named incoming chair of GO2 Foundation's Scientific Leadership Board (SLB). Lovly, co-leader of the Translational Research and Interventional Oncology Research Program at Vanderbilt University Medical Center, has served as an SLB board member since April 2019. Read more
---
Cancer Biology Science Hour.

Please join us November 11, 2020, Wednesday 4-5 PM.
"Endothelial-specific loss of glutaminase inhibits tumor growth and normalizes tumor blood vessels."
Verra M. Ngwa, MS, Graduate Student, Chen Lab
"Targeting RAS/RAF/PI3K pathway to make melanoma tumors 'immunologically hot' and suitable for checkpoint blockade immunotherapies."
Chi Yan Ph.D., Research Instructor, Pharmacology
Join Zoom Meeting
https://vanderbilt.zoom.us/j/98274344576?pwd=NDJDRDJpZFFXZm1jeDk5aVlzdzZJZz09
Meeting ID: 982 7434 4576
Password: cancer
---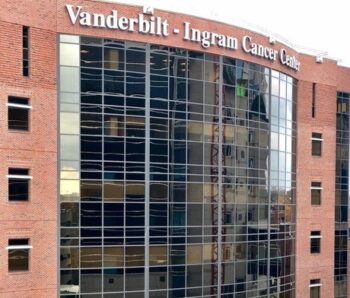 VICC receives 'exceptional' score with renewal as an NCI-Designated Comprehensive Cancer Center.
Vanderbilt-Ingram Cancer Center (VICC) received an overall "exceptional" score for its research impact and excellence in patient care. This achievement merits renewed funding from the National Cancer Institute (NCI) and places it once again in a top group of NCI Comprehensive Cancer Centers. The renewal of the NCI Cancer Center Support Grant (CCSG) provides Vanderbilt-Ingram more than $36 million over the next five years to advance research discoveries, to sustain the work of its scientific leadership and administration, and to maintain its infrastructure, including shared resources for cancer investigators. The grant renewal represents an increase in funding over the previous five-year grant award with new support for research education, training, career development, and community outreach and engagement.
---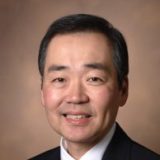 Ben Ho Park, MD, PhD named director of Hematology and Oncology at VICC 
 "In the relatively short period Dr. Park has been at Vanderbilt, he has implemented initiatives that are already transforming care for people with cancer both within and beyond the catchment area we serve. The VICC HOPE molecular tumor board, which he founded and leads, allows community-based clinicians to consult with our highly specialized cancer experts.  "It has been an absolute honor to have led this outstanding division during the past nine months," Park said. "Although the pandemic has undoubtedly had its toll on patients, providers, morale and finances, our division faculty, staff, trainees, and supporters have never wavered. We have met the challenge and continue to provide world-class care for our patients and outstanding groundbreaking research and education for learners at all levels. The way our division members have responded in crisis speaks volumes about who we are and inspired me to stay as a permanent division director.
---
EXTERNAL FUNDING OPPORTUNITIES:
Pancreatic Cancer Action Network (PanCAN)
2021 Career Development Awards
Additional Details
Due Date: November 20, 2020
Rivkin Center for Ovarian Cancer
Scientific Scholar Awards and Pilot Study Awards
Additional Details
Due Date: December 1, 2020
American Association for Cancer Research (AACR); Bristol Myers Squibb
AACR-Bristol Myers Squibb Midcareer Female Investigator Grant
Additional Details
Due Date: December 17, 2020
Rivkin Center for Ovarian Cancer
Scientific Scholar Awards and Pilot Study Awards
Additional Details
Due Date: December 1, 2020
National Cancer Institute (NCI)
Strengthening Institutional Capacity to Conduct Global Cancer Research in Low- and Middle-Income Countries (D43 Clinical Trial Not Allowed)
Additional Details
Application Due Date: June 24, 2021