About
Public health was born in the nineteenth century of the recognition that treating pandemics and other widespread illnesses requires looking beyond individual biological symptoms to

the structures and environments that produce them. German pioneer Rudolph Virchow declared that "medicine is a social science, and politics is nothing but medicine at a large scale." A Cultural Context of Health and Wellbeing (CCH) approach extends Virchow's observation to the realm of culture, looking beneath surface manifestations to address the underlying values and conventions that manifest in drive and behavior.
In health policy, we often talk about "overcoming" or "breaking down" cultural conceptions that are seen as obstacles to healthcare. This view usually associates "culture" with geographically bounded ethnic groups defined by lists of traits. Seeing culture as a dynamic set of shared values, we can understand "it" not as an obstacle, but as a source of possibilities and potential. A cultural contexts of health approach offers forms of engagement that are both more effective and more sustainable than biomedical approaches alone.
WHO/Europe has developed an innovative approach to CCH in the context of the European region. The Vanderbilt Cultural Contexts of Health and Wellbeing Initiative (VU-CCH) builds on this work to conceptualize and operationalize a model of cultural contexts built from global examples but adapted to the U.S. context. Our goal is to influence the larger conversation around public health to include CCH considerations that lead to better outcomes. We are funded by the Robert Wood Johnson Foundation's Global Ideas for U.S. Solutions program.
Our work consists of convening Expert Groups of academics, policy makers, practitioners, and writers to identify and explore key topics (starting with the cultural contexts of the COVID-19 pandemic). These consultations are expanded through literature reviews of global cases in which cultural insights have led to better health policies and outcomes. Based on this research, we produce policy briefs based in global case studies, translating lessons to the U.S. context.
News Release: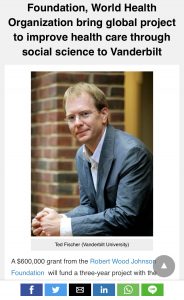 Robert Wood Johnson Foundation, World Health Organization bring global project to improve health care through social science to Vanderbilt
A $600,000 grant from the Robert Wood Johnson Foundation will fund a three-year project with the World Health Organization to develop a new model for health care that incorporates the consideration of cultural attitudes and practices that affect health in the United States