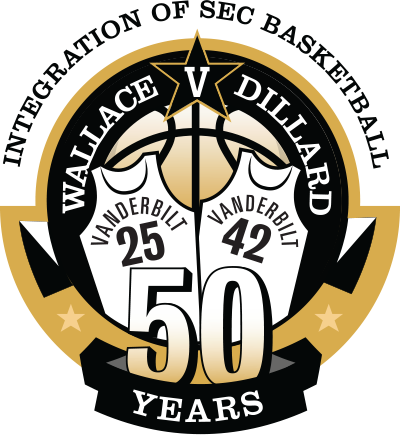 Legacy of Courage
Perry Wallace
was among the university's first African American students.
He grew up in North Nashville and was recruited to play basketball for the Vanderbilt Commodores in 1966 by legendary coach
Roy Skinner
– with the support of then-Chancellor Alexander Heard. Skinner recruited a second African American player for the Commodores that year – a young man from Detroit,
Godfrey Dillard
.
Mr. Wallace and Mr. Dillard joined a small group of
African American students
at Vanderbilt who encountered varying degrees of racism because of the prevailing thought of the time – that African Americans should have a separate but "equal" existence, which meant they had no place at an institution like Vanderbilt, including on the same basketball court as white students.
Mr. Wallace and Mr. Dillard, as members of the freshman basketball team, also faced hatred and abuse on the road from fans throughout the South.
The two of them had made history as Vanderbilt's and the Southeastern Conference's first African American basketball players, but a knee injury suffered by Mr. Dillard would see Mr. Wallace make history at
Vanderbilt's Memorial Gym
in December 1967, as the first African American scholarship athlete to play varsity basketball in the SEC.
In 2017, Vanderbilt marked the 50th anniversary of that historic basketball season and recognized the legacies of Mr. Wallace and Mr. Dillard with a series of activities and events this academic year. For the second year in a row, the New York Times best-selling biography of Mr. Wallace, Strong Inside by Andrew Maraniss, BA '92, was selected as the Commons Reading on The Martha Rivers Ingram Commons, Vanderbilt's first-year residential community. Strong Inside has also been adapted into a young adult book of the same name. The university also commissioned a documentary film,  Triumph: The Untold Story of Perry Wallace , which premiered on campus Dec. 4, 2017.  Triumph is now available for educational screenings. Together, Mr. Wallace and Mr. Dillard forever changed Vanderbilt, the SEC and our nation.
Perry Wallace passed away on December 2, 2017. Vanderbilt hosted a celebration of his life after his passing. Learn more about his legacy and the celebration.
Wallace and Dillard Timeline
---
Screenings of
Triumph
Triumph: The Untold Story of Perry Wallace is now available for educational screenings. Interested groups or organizations can request to view the film, free of charge, for not-for-profit, educational purposes. To request a screening, please fill out the request form.
---