On Writing First Books, 11/15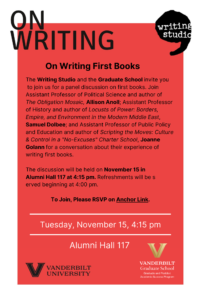 The Writing Studio and the Graduate School invite you to join us for a panel discussion on first books. Join Assistant Professor of Political Science and author of The Obligation Mosaic, Allison Anoll; Assistant Professor of History and author of Locusts of Power: Borders,Empire, and Environment in the Modern Middle East, Samuel Dolbee; and Assistant Professor of Public Policy and Education and author of Scripting the Moves: Culture & Control in a "No-Excuses" Charter School, Joanne Golann for a conversation about their experience of writing their first book.

The discussion will be held on November 15 in Alumni Hall 117 at 4:15 pm. Refreshments will be served beginning at 4:00 pm. To Join, Please RSVP on Anchor Link.